Christian Music is on the bill with the 7th annual "Waves of Glory" Festival.  The festival will give emerging Christian artists the chance to perform, and will feature two huge names in Christian music. Plus, the festival will have all the praise and worship in one the most thrilling and soaked settings in Florida.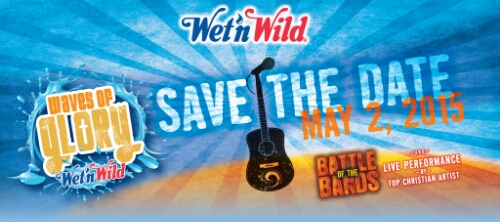 National artists Plumb and Tim Timmons will be headlining the Christian music festival on May 2nd.
"I am so excited to be a part of Waves of Glory, especially as this event is just a few
days before my new album "Exhale" releases. This will be a perfect way to kick off the new
album. I'm excited to share new music – and sunscreen – with everyone in Orlando," said
Plumb.
The line up will also feature the annual Battle of the Bands, which will pit the most talented Christian rock and rap groups against each other.
Here's the line up: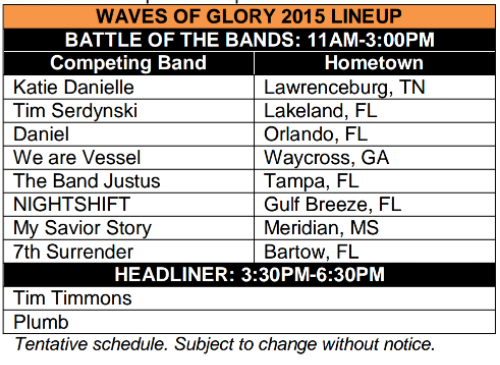 Musicians will be competing to win two thousand dollars in cash
prizes for production and charitable donations as well as the chance to perform this September
at Universal Studios' Rock the Universe, Florida's largest Christian music festival. Waves of
Glory is free with park admission. The Battle of the Bands competition begins at 11:00AM, with
headlining concerts starting at 3:30PM at the Beach Club Stage.
Stay tuned for more from Wet n Wild Orlando, and be sure to get social with us on Facebook and be sure to follow along with us on Twitter @BehindThrills for the latest updates!
For more information about Wet n Wild Orlando, including tickets, visit the official website by clicking here!