The World's tallest roller coaster is scheduled to roar through Orlando in 2017, and it's bringing a new friend with it. The Skyplex is scheduled open with a huge entertainment, dining and shopping area on International Drive in Orlando in 2017, with Skyscraper, the world's tallest roller coaster attached to it. Now, the same people are upping the ante with a new drop ride.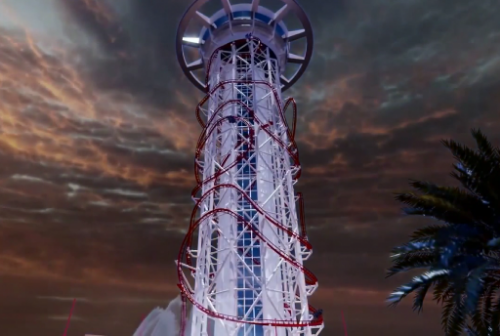 The 570 foot tall Skyscraper will be the centerpiece of the new Skyplex, once it opens in 2017. Today the company who will open the attraction also announced that it will be opening Skyfall. No, it's not a James Bond ride, it's the world's tallest, freefall, drop tower.
The new ride will dwarf the current record holder by 45 feet. Zumanjaro Drop of Doom measures in at 415 feet, while Skyfall will measure a whopping 450 feet. There's no word on the type of ride system, or manufacturer just yet.
The company also announced that it will be building a huge glass elevator to take guests to an observation deck at the top of the complex.
The complex joins several other attractions in Orlando that are currently revitalizing the International Drive area. Later this year, five new attractions Neill on just down the road at I-Drive 360, which will boast a Madame Tussauds Wax Museum, Sea Life Aquarium, and the 400 foot Orlando Eye.
Ground has not broken on the project yet, however construction is expected to start a little later this year.
The same company is also opening Mango'd Tropical Cafe just down the road. That location is shaping up, and is holding a job fair, beginning February 18th. For more information, visit the official website by clicking here!
Stay tuned for more from skyplex, and be sure to get social with us on Facebook and follow along with us onTwitter @BehindThrills for the latest updates.