Busch Gardens has brought all new savory flavors to the park this Spring as they prepare to kick off their brand new Food & Wine Festival. Busch Gardens Tampa's Food & Wine Festival offers a wide selection of dishes, wines, and beers for guests to taste. From sweets to meats, there is something for everyone to love. On top of everything there is to taste, Busch Gardens is also offering quite the concert line up.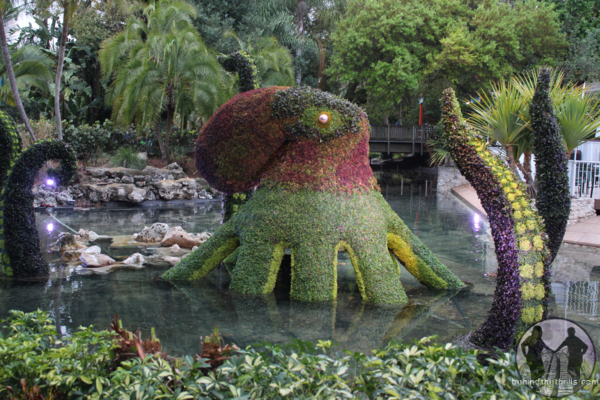 The Food & Wine Festival officially kicks off tomorrow. The event will take place every single weekend from March 7th through April 26th. The Festival will begin at noon on event days with concerts starting at 6pm. It is included with park admission, which means guests can experience everything Busch Gardens has to offer plus the concert and the option to taste a variety of foods and wines. Although the event is included with park admission, the food, wine, or beer is not.
We ventured out to Busch Gardens today for a sneak preview of the Food & Wine Festival. While we weren't able to sample everything that will be offered, we sampled a few dishes, beers, and wines that will be available to guests during the Food & Wine Festival. Some of the items we sampled included Pork Belly, Mango Eclair, Bacon Mac and Cheese, Shrimp, Scallops, and the Jerk Chicken Sandwich. From our sampling, it was difficult to pick an absolute favorite, but we really enjoyed the Pork Belly and the Bacon Mac and Cheese. There were also a few choices of beers and wines available for sampling, including some flavored hard ciders, a variety of Budweiser's margaritas (the Lime-a-Rita for example), a handful of beers, and a wide variety of wines.
Video-Take a look at the all new Food&Wine Festival at Busch Gardens Tampa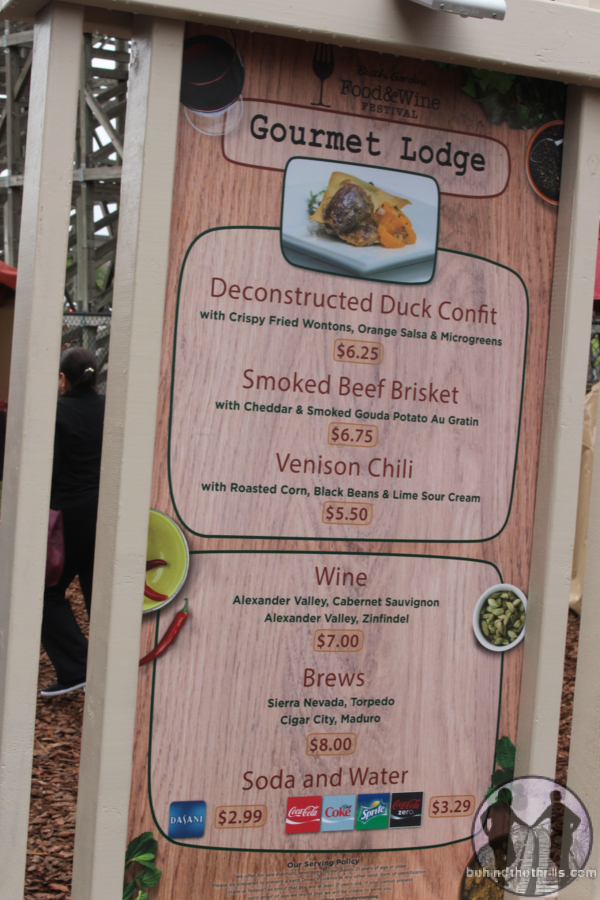 Each booth at the Food & Wine Festival will offer their own selection of dishes and on their menus, they list the beverages that are best paired with the items on their menu. Some may be better paired with beers while others might be better paired with a wine.In total, Busch Gardens will offer more than 60 wines and more than 50 craft beers.
One of the really nice things about the Food & Wine Festival is that portions being offered will be much smaller than a typical meal, which will allow guests to sample multiple items instead of filling up on a single item. This also gives guests the opportunity to visit multiple times and try something new each and every single visit.
Slideshow: Food & Wine Festival Preview at Busch Gardens Tampa

Apparently fans were really upset about the removal of Bands, Brew BBQ at Busch Gardens Tampa. However, with Food&Wine there's a lot more food, all the beer is there, and now there's tons of wine as well. Plus the park is getting back to their roots with the addition of the new topiaries.
The all new festival happens every weekend at the park, and is included with theme park admission. Food and beverages are an additional fee, but concerts are free. The festival, along with all the food offerings begin at noon on festival days, with the concerts happening at 6p.m. While individual plates will run about $5 dollars (depending on dish and beverage) there are packages available.
Guests can get sampler packages starting at $35 dollars for beer and wine, and $42 dollars for food, beer and wine. If you also want to get VIP seating for the concert, they have packages for that as well.
The fun goes until April 26th!
Stay tuned for more from Busch Gardens Tampa, and get social with us on Facebook, and be sure to follow along with us on Twitter @BehindThrills for the latest updates!
For more information about the Food & Wine Festival at Busch Gardens Tampa, visit the official website by clicking here.