It's been the biggest secret since construction started late last year, in plain sight. Busch Gardens Williamsburg is building an all new coaster. The plans are out there on various sites, and the coaster is standing tall right next to Apollo's Chariot. However the park has been waiting for the perfect time to announce the new attraction, and it appears that wait is almost over.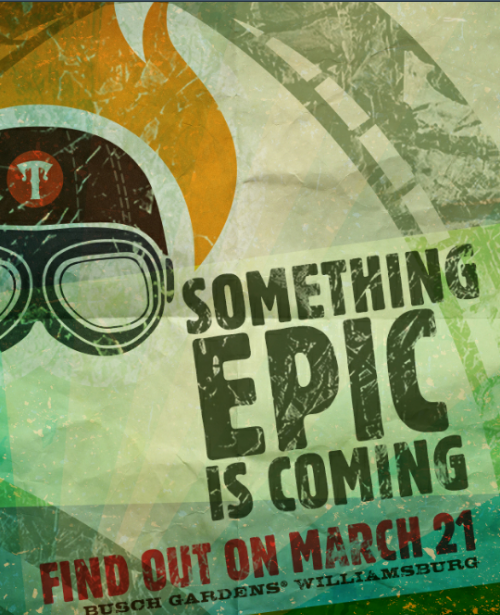 The park will be holding their annual "Preview Day" on March 21st. Annual passholders can attend a special announcement in the Italia Festa area of the park, in which the park will present their plans for the 2015 season.
Among those plans is a huge announcement about what's next. According the flyer, it's going to be huge. We also get the picture of a helmet, with a T emblazoned on it.
According to several rumors, one of the names bandied around for the coaster was "Tempesto". The new flyer seems to verify it, though we'll wait for official confirmation on the 22nd.
The huge new coaster is rumored to be a launch coaster, with a giant loop. The coaster will be just one of the new additions coming to Busch Gardens Williamsburg for their 40th anniversary. The park will also roll out an all new show, "Roll Out the Barrels" in Das Festhaus. The park is also hinting at a huge party for the 40th.
We'll have to wait until the 21st to find out just how much fun the park has in store for the season.
The park will also be feeding some information through social media using the hashtag #DoTheLoop. Follow along with it to find out more!
Stay tuned for more from Busch Gardens Williamsburg, and be sure to get social with us on Facebook and follow along with us on Twitter @BehindThrills for the latest updates.
For more information about Busch Gardens Williamsburg, including tickets, visit the official website by clicking here!