What the hell is Cannibal at Lagoon, exactly? We know it's a big coaster at the little park in Farmington Utah, but what exactly is it? The red steel track extends to the sky, with some crazy looking vertical brick enclosure. Then it dips down to a huge, beyond vertical drop, and undergoes some crazy maneuvers before entering some insane looking temple. What exactly is going on here? It's the question that is driving everyone insane with anticipation. The wait is just a little closer to being over. Over the weekend, crews finished installing the last piece of track, getting guests that much closer to finding out the mysteries of Cannibal.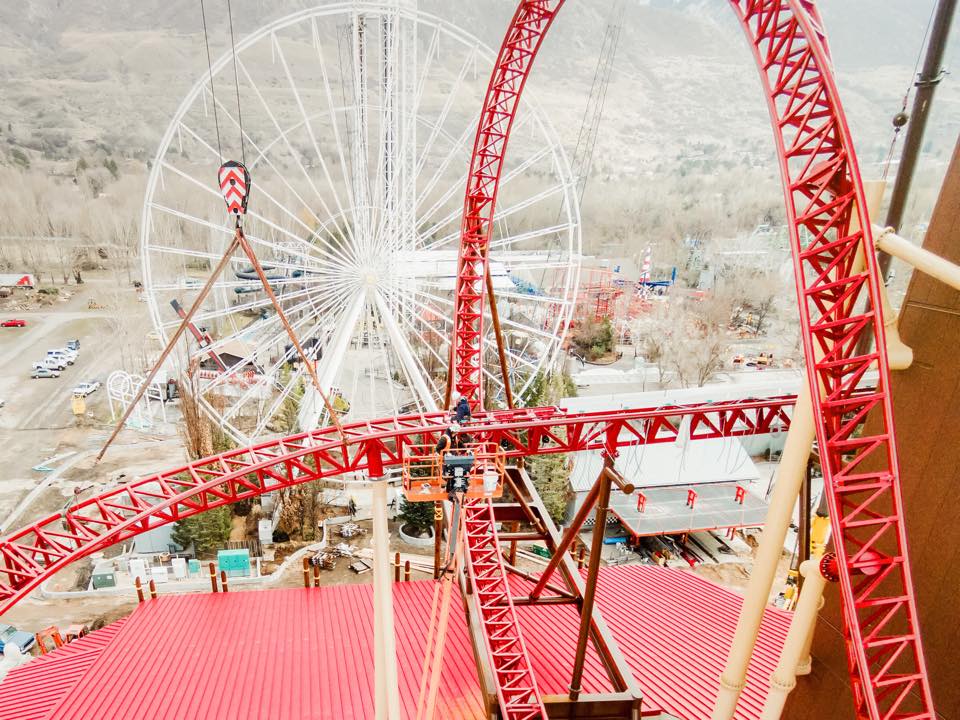 Crews installed the last piece of track on Cannibal on Saturday. The park has been very careful to stay quiet about the coaster, only giving the basic information. The coaster will have three inversions, will be 208 feet tall, and will reach speeds of 70mph.
We have no idea if it's going to be a traditional chain lift, or if it's going to be a launch, or even a vertical lift. The rumors about the coaster have been swirling, saying that it's going to be an elevator style lift, with sections that launch riders. Then there's the subject of that weird looking temple thing. There's no word on why it's there, or what happens once inside.
We're intrigued.
The park has also released an all new video flyover of the coaster:

The park begins weekend operation on March 28th, though we're not sure if Cannibal will be ready for opening day.
Stay tuned for more from Lagoon, and be sure to get social with us on Facebook, and follow along with us on Twitter @BehindThrills for the latest updates!
For more information about Lagoon, including a great deal on season passes, visit the official website by clicking here!