He's been on a mission from God. He's the one that you were gonna call, and this Saturday he's going to be at Hard Rock Hotel at Universal Orlando. Dan Aykroyd will be on hand at Hard Rock Hotel to sign bottles of his signature Crystal Head Vodka.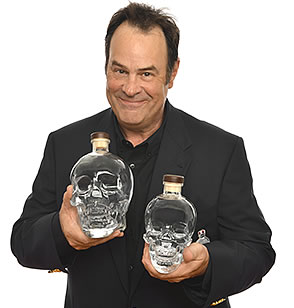 Aykroyd will be signing bottles of his Crystal Head Vodka at Hard Rock Hotel's restaurant-The Kitchen on Saturday March 21st from 8:30-9:30p.m.
While the event is free to attend, guests will be able to purchase a bottle of Crystal Head for Aykroyd to sign.
We're going to guess this one is going to be for ages 21 and up.
Crystal Head Vodka was developed by Aykroyd, and has earned rave reviews. Besides, how often do you get the chance to meet a Ghostbusting Blues Brother?
Stay tuned for more from Hard Rock, and be sure to get social with us on Facebook and follow along with us on Twitter @BehindThrills for the latest updates!
For more information about the event, call 407-503-2402.