In 2014, SeaWorld San Antonio announced that the park would be completely revamping their Dolphin Cove exhibit in the park. No other details were mentioned at the time, but it was expected to become more like SeaWorld Orlando's Dolphin experience.  We were only half right. The details of the all new dolphin area was released by SeaWorld San Antonio, and all we can say is…wow. The park has announced Discovery Point, an all new dolphin interaction area that will get guests closer than they've ever been in San Antonio, and closer than they can get anywhere else in Texas.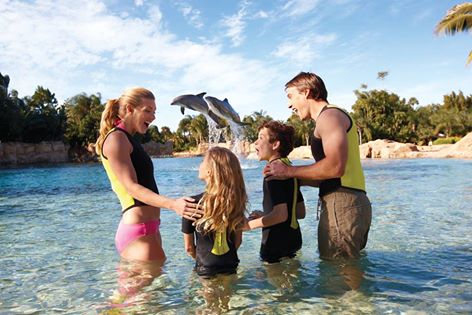 Discovery Point will be an all new attraction opening in 2016 at SeaWorld San Antonio. The all new experience will take up the entire North end of the park, which is now home to Dolphin Cove, the coral reef and Sharks areas. Those areas will close on March 23rd to make way for the all new Discovery Point.
If Discovery Point sounds familiar, it's because it borrows heavily from SeaWorld's own Discovery Cove. Discovery Cove allows guests to swim with dolphins in a natural setting, and gives guests some very special time and memories.
Discovery Point will feature huge underwater viewing areas, as well as an area that allows guests to learn about, interact and swim with dolphins. This is a huge step for the park, as it's taking the award winning experience from Orlando and bringing it to Texas.
"Guests have asked repeatedly for this once‐in‐a‐lifetime opportunity to swim with these fascinating animals," said Dan Decker, park president of SeaWorld & Aquatica San Antonio.  "Up until now, we've only offered this experience in Orlando so this will make it much more accessible to guests in our region."

"As an accredited Association of Zoos and Aquariums (AZA) facility and world leader in animal care, these future attractions will not only revolutionize the way our guests connect with and learn about our animals, but it will allow us to continue SeaWorld's excellent standard of care," Decker added.
Just like at Discovery Cove, guests at Discovery Point will be able to get up close with dolphins, interact and even get a dorsal tow. If you've never experienced it, it's really one of the most amazing experiences that you can have. Being up close with these amazing creatures isn't something that you can do in the wild, but you can do it safely at Discovery Cove, and soon you'll be able to do it at Discovery Point. While the area will feature the dolphin swim, the experience will not be in included with park admission.
Discovery Point will become the hub for three of the park's animal interaction programs serving as a starting point for guests as they journey to Beluga Bay, Sea Lion Shallows and Dolphin Lagoon. These programs compliment the park's other interaction programs with stingrays and penguins which will remain unchanged. Currently, the park has an amazing Beluga Interaction Program, which allows guests to not only learn more about the amazing Beluga whales, but also get in the water and go through training sessions with them. Last year, the park ended the Sea Lion Interaction Program, which took you through the training process, and then let you swim with sea lions, in Sea Lion Stadium. Those programs (or at least some variations) look to return in May of 2016, as the park aggressively expands.
SeaWorld San Antonio will introduce an all new Sea Lion show, Sea Lion High, later this year, as well as a new sea lion habitat and restaurant.
Stay tuned for more from SeaWorld San Antonio, and be sure to get social with us on Facebook, and follow along with us on Twitter @BehindThrills for the latest updates!
For more information about Discovery Point at SeaWorld San Antonio, visit the official website by clicking here!