Do you want to film a sequel? We could release it in a couple years. Next year we won't have to hide, we'll open a ride to a bunch of little girls cheers! We won't burn out the parents, because they'll be tired of let it go by then! So do you want to film a sequel? Not another short, but a sequel…okay fine.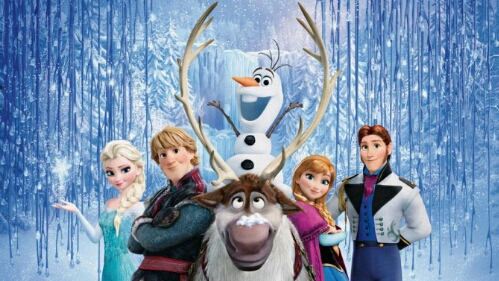 Disney has officially announced a sequel to the 2013 hit Frozen today in Disney's Annual Meeting of Shareholders this morning by Bob Iger, Chairman and Chief Executive, John Lasseter, Chief Creative Officer of Walt Disney and Pixar Animation Studios; and actor Josh Gad, the voice of Olaf. Directors Chris Buck and Jennifer Lee and producer Peter Del Vecho returning, and you can probably count on the entire cast, musicians, toy makers and little kids who saw the first film returning as well.
Frozen Fever its peter this Friday with the live-action Cinderella, and it's already getting huge buzz.
A sequel has been a no brainer, since the franchise has made the company tons and tons of money on all fronts. DVD, soundtrack and merchandise sales all sky rocketed in 2014, and the theme parks have been just slammed, thanks in large part to huge new Frozen additions.
How many Frozen additions have there been? Let's count!
For starters, there's the Frozen kickoff in the Festival of Fantasy parade. Let's not forget the huge meet and greet at Princess Fairy Tale Hall at Magic Kingdom. That meet and greet spurred wait of around 4 hours, just to see Elsa and Anna. Then there was the mega success of Frozen Summer Live at Disney's Hollywood Studios.
Then Christmas came around, and Frozen took over everything. The castle show, gingerbread displays, parades…and even the ABC Christmas morning special.
Walt Disney World will also open an all new attraction on the site of the Norway pavilion at Epcot's World Showcase in 2016.
As of right now there are no details on Frozen 2. No release date or story has been announced, only that Frozen 2 would be coming.
While it's important to keep the franchise fresh, too much will turn audiences off. Still, there seems to be a huge hunger for characters and story, so it's likely we'll see the new movie within the next five years.
Stay tuned for more from Frozen, and be sure to get social with us on Facebook and follow along with us on Twitter @BehindThrills for the latest updates!
For more frozen fun at Walt Disney World, including tickets, visit the official website by clicking here!