Monsterpalooza is getting ready to kick off in Burbank for a terror filled weekend of monsters, celebrities and madness. It's also going to be a great time to see some horror legends, and even hear about some legendary horror as the creative teams behind two huge theme park industry companies will be hitting the monster themed festival to talk about their crafts, and the time that they've spent making monsters come to life.
The three day event will kick off on Friday with tons of celebrity signings, loads of special movie screenings and even make up demonstrations. The real fun, however, starts on Saturday with a special presentation from someone who's been making monsters, and various other creatures come to life in the theme park industry for a long time.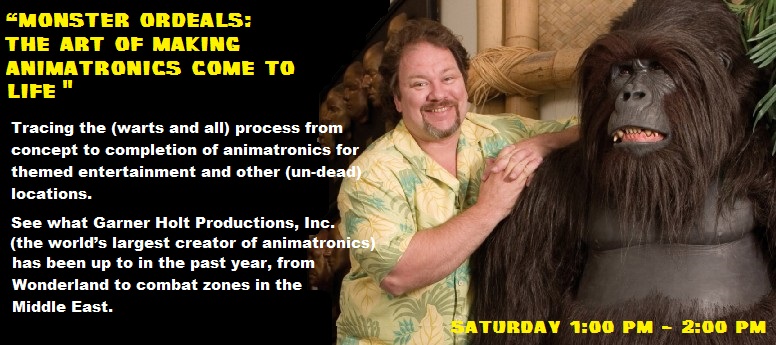 The legendary Garner Holt will be on hand to talk about not only creating some legendary monsters, but some of the most recognizable animatronics in the industry. Garner Holt productions is responsible for making more animatronics in the world than any other single company. If there's a theme park ride that has animatronics, chances are Garner Holt made it.
The panel will be from 1-2p.m. on Saturday March 28th.
Chris Williams-Art Director and production designer will be joined on stage by Creative Director John Murdy from Halloween Horror Nights Hollywood to talk about the last ten years of working at HHN. They'll be talking about Texas Chainsaw Massacre, Halloween, Insidious, AVP and An America Werewolf in London mazes, as well as sharing rare behind the scenes pics, drawings, designs, and stories about creating HHN.
If that wasn't enough for fans, John and Chris will have a special surprise for fans of the event. While it's a little too early for a house reveal for this year, don't count anything out.
Tickets are now on sale, and the event will run Friday March 27th-29th.
Stay tuned for more monster madness, and be sure to get social with us on Facebook, and follow along with us on Twitter @BehindThrills for the latest updates!
For more information about Monsterpalooza, including tickets, visit the official website by clicking here!