How do you take an animated classic and turn it into a live action film that is neither silly, nor stale? Apparently you hire director Kenneth Branagh, Helena Bonham Carter, and dial way back on the talking animals. You also make the set design absolutely gorgeous, and keep the film lighthearted, even though the villain is just about as bad as they come. The live action Cinderella, from Disney, takes the old story and makes it new again with a bit of comedy, love, and of course magic.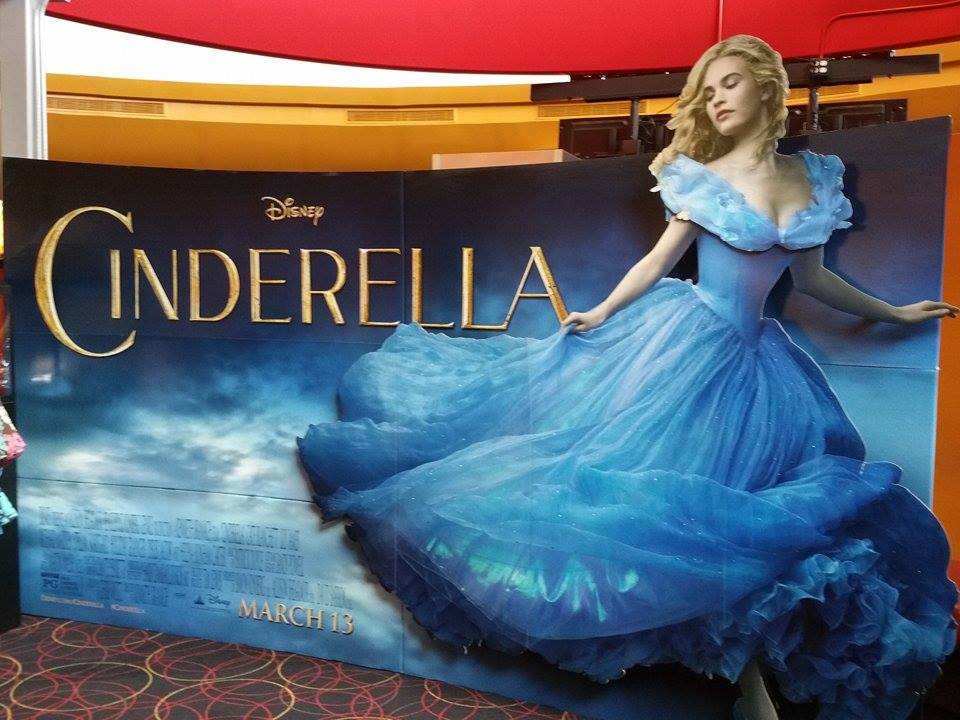 The Disney Parks Blog held a meet up for readers and fans, and we were lucky enough to get in on the preview. We were able to catch an early sneak peek of Cinderella. While Disneyland fans were treated to a "Royal Reception", Walt Disney World fans were not.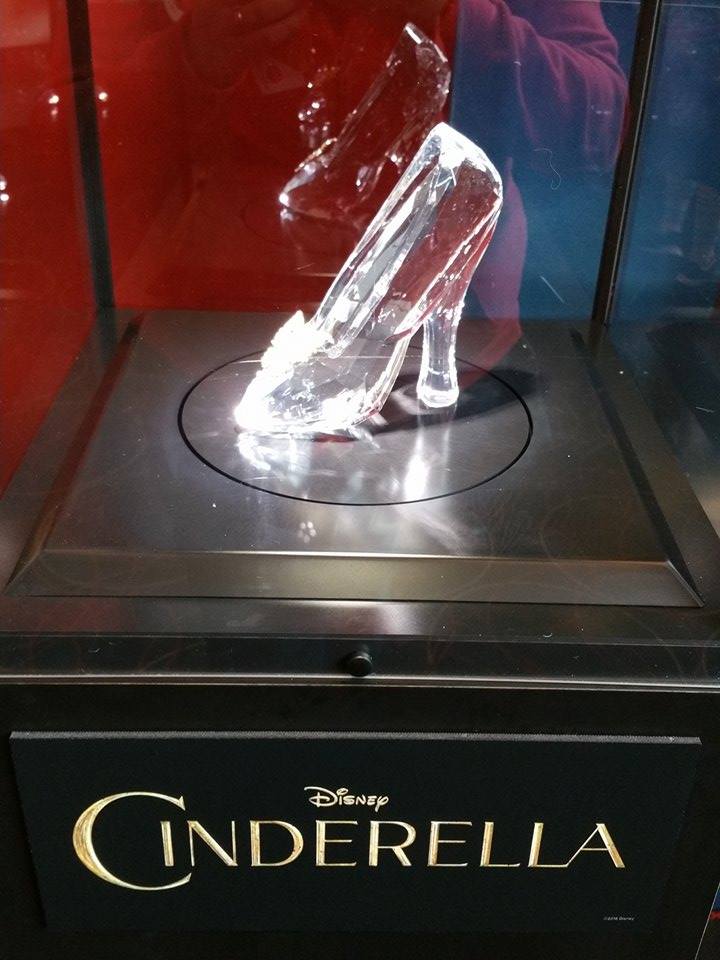 On display was one of the shoes from the film, a rather comfy glass slipper. Honestly, we're not too sure how comfortable a glass slipper would be, but it's rather elegant, none the less.
The film itself was directed by Kenneth Branagh. He also directed Disney and Marvel's THOR, which was also technically a period piece. The tale is known, about a young girl who is mistreated by her stepmother and sisters and goes to the ball by help of her fairy godmother. There the prince sees her, instantly falls in love with her and they live happily ever after.
That story is there, and every aspect of the classic Disney animated film is attached to it. The only thing we're missing is musical numbers, and talking animals. The new film takes the animated film, and brings it to life with just a touch of silliness, but without all the singing and talking animals. We also get a bit of a saddening back story about "Ella" and her mother, and their happiness. Like all fairy tales, there is a hard road to walk before happiness can be regained. We also get a bit more depth about her father, and then there's Lady Tremaine. The Prince, Kit, gets a bit of a backstory as well, and it includes his own little bit of tragedy.
The movie itself is absolutely charming. Even though the story is familiar, it still feels fresh with the new faces. Lily James as a "kinder, gentler" Cinderella is mesmerizing, and wonderful. Fans of Downtown Abbey will recognize her. Richard Madden, formerly of Game of Thrones, makes a rather dashing Prince. The chemistry between the two just sparks, and is what works the most.
The story goes from being about a poor girl who is mistreated, to about family and kindness. The relationship between Ella and her parents are the root of the film, with it later sliding to the Prince and the King. Even Lady Tremaine and her daughters are, at the root, all about family, as it's them she's thinking about when she locks Cinderella away. Family, and the things we must do ring out louder than any other magic.
Director Kenneth Branagh stays away from the glitzy CGI, using it only a bit for emphasis. Helena Bonham Carter is a very fun, and whimsical Fairy Godmother who chews up the scene. She even slides in a few "bippity, boppity boo's" in for good measure. The animals have voices, but they do not talk, which makes for a less cheesy Cinderella.
The chase scenes can be a little intense for younger viewers, but other than that, it's a perfect film for the entire family.
Of course, most will come only for Frozen Fever (read the review here), but Cinderella is the real star of the show.
Kenneth Branagh has crafted a very delightful period piece, with the characters from one of Disney's most beloved films of all time. The cast is all having fun, even Cate Blanchett, who chews up every single scene as the unlikable, and angry Lady Tremaine. The stepsisters are more ugly inside than they are are out, but play it up with so much fun and wickedness, that you can't help but love them. Overall, he crafts a story of belief and kindness that leads to a wonderful fantasy that will propel this generation with the notion that fairy tales can happen.
Unlike the broody and angry Maleficent, it gives hope for more Disney live action conversions. Next up is Beauty and the Beast, with Emma Watson as Belle and Luke Evans as Gaston.
Stay tuned for more from Disney, and be sure to get social with us on Facebook, and follow along with us on Twitter @BehindThrills the latest updates!
Cinderella opens in theaters everywhere Friday, March 13th!