Food&Wine is definitely on the agenda at the all new festival at Busch Gardens Tampa, but the park is getting back yo it's…roots, by showcasing 11 huge topiaries specifically for the event. While food and wine is definitely on the menu, and definitely in abundance,  the garden aspect is what Busch Gardens Tampa was built on, and is showcased with stunning detail in the all new topiary.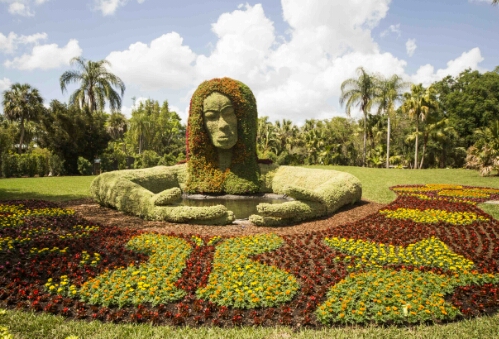 From the absolutely huge "Spirit of Spring" to dozens of smaller sculptures, like sea turtles all around the gardens, the topiaries just seem to be a huge part of spring. The all new festival at Busch Gardens accentuates that, and gives a great atmosphere.
Here's some fun facts about the all new topiaries at Busch Gardens Tampa:
Spirit of Spring(above)
Located near Bird Gardens, the 20-foot-tall Spirit of Spring features more than 165,000 plants of six different species. Inspired by a 100-year-old bronze art nouveau sculpture, the Spirit of Spring weighs more than 25 tons and will have its own internal irrigation system and reflecting pool.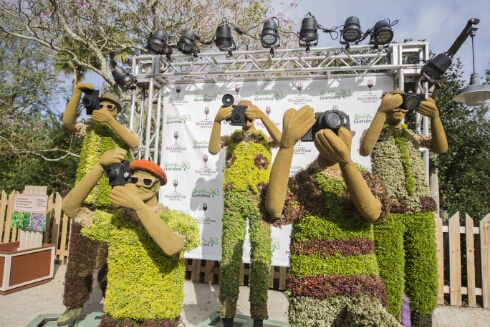 Topirazzi
Inspired by paparazzi, five Topirazzifigures welcome guests at the front of the park. Crafted by computer-generated and automated laser-cutting machines, these masterpieces are the perfect photo opportunity for guests of all ages.
Sesame Street® Characters
Sesame Street® Safari of Fun blooms this spring with topiaries inspired byElmo, Big Bird and Oscar the Grouch.  The topiaries will colorfully decorate the family-friendly area with thousands of red begonias, yellow St. Joseph's coat and green creeping fig plants.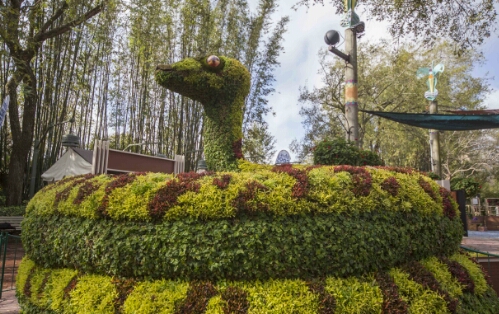 Naga' Zira' the Green Boa Constrictor
Reptile lovers will be in awe Naga' Zira' the Green Boa Constrictor, a sidewalk serpent made from more than 25,000 of red St. Joseph's coats, green ficus' and yellow alternantheras. This horticulture masterpiece is also located near the all-new Conservation Cabin, where guests can learn about animal conservation and even meet several snake species that call Busch Gardens home.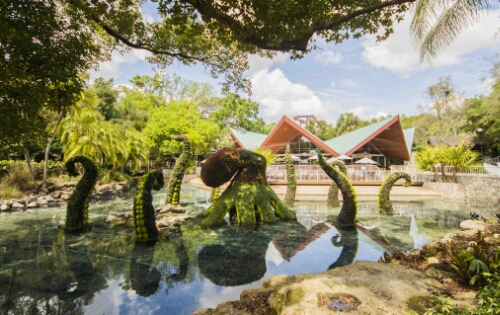 Giant Florida Octopus
The Giant Florida Octopus rises up to 18 feet from the depths of the Garden Gate pond with more than 64,000 flower varieties, including ajugas, creeping figs and alternantheras.
There are also tons of other great garden features, demonstrations and more at the Busch Gardens Wood Wine Festival.
Video-Go for a stroll and get a taste of the Busch Gardens Foodie one Festival
Of course there are similarities to other festivals in the area that features topiaries, flowers and gardens,  but festival fits Busch Gardens Tampa, and the overall feel of the park. Guests can also experience world class coasters, and the all new Falcon's Fury, which takes guests 335 feet straight up, turns them on their face and drops them. Just what you need after sampling the 60 varieties of wine and 50 varieties of beer, plus several huge menus.
Stay tuned for more from Busch Gardens Tampa, and be sure to get social with us on Facebook and follow along with us on Twitter @BehindThrills for the latest updates!
For more information about the Busch Gardens Tampa Food&Wine Festival, including tickets, visit the official website by clicking here!