Loews Royal Pacific Hotel at Universal Orlando is home to some amazing culinary adventures. From Emeril's Tchoup Chop, to the Wantilan Luau, there's some very unique and eclectic food offerings. However, one of the most talked about is Jake's Beer Dinner. It's a gathering in which they pair a fresh menu, with some very different beers that only happens several times a year. The menu changes every time, and so does the beer, so it's something that beer lovers, as well as foodies, can enjoy time and time again. However, is it worth it? We took the challenge to find out.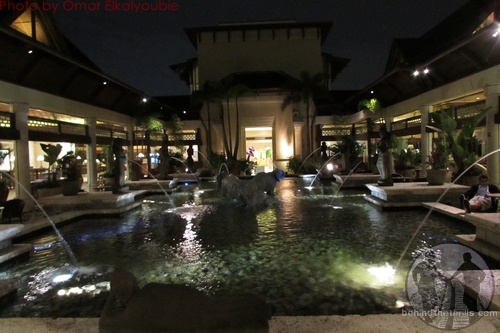 On January 23rd, my friend and I went to the first Jake's American Bar Beer Pairing of the year at the Royal Pacific Hotel. Jake's promised a unique local dining adventure and we were not disappointed. When we first arrived we entered into a private dining room meant only for this event and ushered to large tables where we would be sitting with other people to eat. While eating with strangers isn't my favorite way to dine, by the 3rd course (and 3rd beer), I was very comfortable with my dining companions.  For each dinner Jake's teams up with a brewery to create a signature menu and this dinner was paired with the craft brewery Unibroque. Unibroque is a Canadian based brewery which specializes in Belgian style ales.
One of the biggest worries my dining companion had was the menu itself, as a vegetarian, he worried that he would only be able to eat side dishes and drink. That was not something to fear however- before we began our first course, the attentive wait staff asked if anyone had any food allergies or diet restrictions so they could make meal replacements and adjustments. My dinner companion would not go hungry!
 We began our dining experience noshing on warm pretzels and homemade mustard paired with the withber style Blanche De Chambly before the first course. It would not be long before our first course- the Lyonnaise Salad. The Lyonnaise salad was paired with a large quail egg and a large piece of candied bacon. One of the greatest things about the beer pairing dinner was the representatives from the brewery   Our second course was a Shrimp and Asparagus Risotto paired with La Fin Du Monde, a tripel style beer whose name literally translates to "The End of The World".  The next course, The Orange Braised Duck Leg, was by far my favorite course. The duck was so tender it fell off the bone and the parsnip mousseline melted in your mouth that was complimented by the Don De Dieu beer, a Belgian Strong Pale Ale with the very high alcohol content (9%!).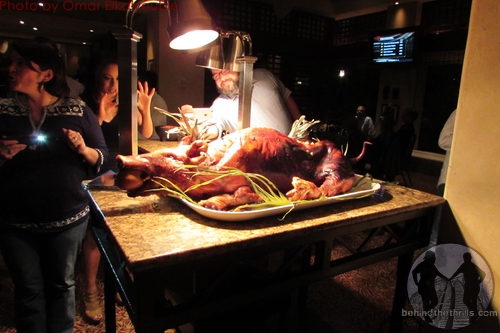 While noshing on the duck leg, the chefs at Jake's American Bar brought out a giant pig whom we would be eating for the next course. That little piggie would be paired with a very sweet, sweet potato gratin, moist red cabbage and my favorite beer- Trois Pistoles. Trois Pistoles or "3 coins" is a Belgian Strong Ale beer with a sweet taste. Our final pairing was dessert and what a sweet pairing that was- a dark chocolate truffle cake coupled with with a sweet dark ale ice cream and a beer called Terrible, which was anything but.
I would highly recommend this event to Orlando residents and visitors alike. It is wonderful to be able to try new beers all while eating delicious gourmet foods. The decor at Jake's and the rest of the Royal Pacific hotel makes a resident feel like they aren't in Orlando anymore. The one recommendation I would make to someone doing this beer dinner is to book a hotel room on site, in order to make the most out of this pairing dinner.  There are some rather strong beers, and it's no good to try and drink and drive. Also, instead of hailing a cab, you can just relax at the hotel, wake up the next morning and enjoy early admission at Universal Orlando. Guests staying at the hotel also enjoy free Express.
Jake's Beer Dinner continues this weekend, on the unlucky Friday the 13th! The menu this time will feature beer from Boulevard Brewing Company.
Stay tuned for more culinary adventures, and be sure to get social with us on
Facebook
, and follow along with us on
Twitter @BehindThrills
for the latest updates!