Give Kids the World is one of the biggest organizations in Central Florida that helps kids in need. The organization gives kids who are battling life threatening illnesses hope, and a chance to take a break from the much needed medical treatment. This Sunday, reality show stars are banding together to help make a difference, raise awareness, and of course raise money to help the amazing charity. This will be not only a chance for you to meet your favorite reality show stars, but also help for a great cause, as well as bid on some great merchandise. The best thing, is that it is completely free.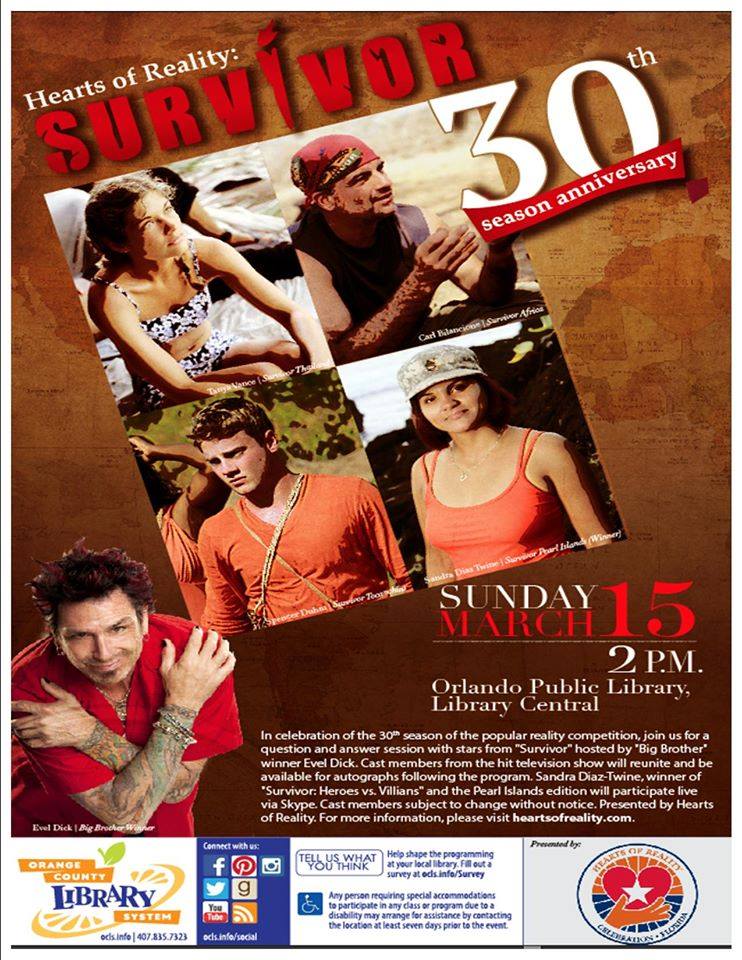 Hearts of Reality  is kicking off its 2015 event with a celebration of the 30th season of Survivor at the Orlando Public Library this Sunday March 15, 2015 at 2 p.m. The event is FREE and will include a Q&A session with Survivor alum Tanya Vance (Survivor Thailand), Carl Bilancione (Survivor Africa), Spencer Duhm (Survivor Tocantins) and TWO TIME Survivor Winner Sandra Diaz Twine* (Survivor Pearl Islands and Survivor Heroes Vs. Villians). The event will be hosted by Evel Dick (Winner of Big Brother 8).  The Q&A session will be followed by an autograph signing.
*Sandra Diaz Twine will be live via Skype and the event posters will include her autograph
The Hearts of Reality event takes place in August and brings together over 100 reality stars from Survivor, Amazing Race, Big Brother, The Bachelor and MORE to raise funds for Give Kids the World.
For more information about Hearts of Reality, visit the official website by clicking here!
Be sure to check out Hearts of Reality on Facebook for a look at all the great fun coming this Sunday!