It's been a rough couple of weeks for the sea lion population of Southern California.  Luckily SeaWorld San Diego and other organizations were there to help. As a result, the sea lion show, Sea Lions Live,  has been put on a hiatus while the crews used the sea lion pools and area for all the rescue and rehabilitation efforts.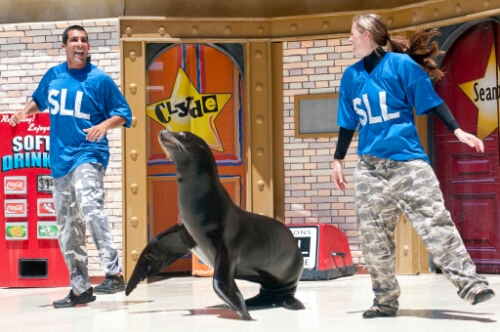 SeaWorld San Diego has rescued 579 marine mammals in 2015. 557 of those were sea lions. As a result,  the sea lion training team was pulled off of their duties to help at the SeaWorld Animal Rescue Center. Sea Lions Live was put on a temporary hiatus while the team helped to rescue and stabilize the stranded sea lions.
An unprecedented amount of sea lion pups were rescued. Most of the pups were malnourished and dehydrated when they were taken in. Hopefully the majority will be able to be released back into the wild.
Meanwhile, Sea Lions Live has resumed normal operations. The stage and area has gotten to a level where shows can now resume.
Stay tuned for more from SeaWorld San Diego, and be sure to get social with us on Facebook, and follow along with us on Twitter @BehindThrills for the latest updates!
For more information about SeaWorld San Diego, including tickets, visit the official website by clicking here!