Tron Legacy was a pretty decent follow up to the classic 1984 film. It left more questions than answers,  but had a kick ass soundtrack.  It left fans wanting more. After many delays, the film is finally getting a sequel that will apparently start filming this fall. While many have been waiting for the sequel, theme park fans have been waiting for the inevitable theme park attractions to roll out.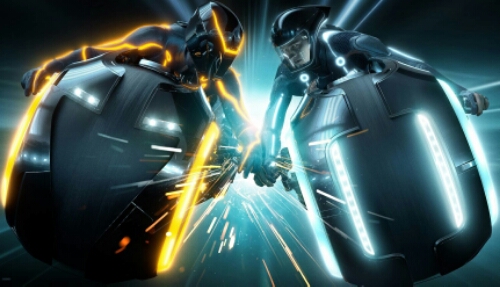 Tron Legacy was a modest box office success, unlike the first film. The film did become a success on DVD, which left many fans still wanting more. This fall, the film is scheduled to start filming in Vancouver with Garret Hudland returning to the Grid as Sam, and Joseph Kosinski coming back to direct. So far, there's no word on story, any other actors, or most importantly Olivia Wilde and Daft Punk.
While this is great news for fans of the film, it begs another question…where is the GRID? Sure, it's technically all around us, but we're talking specifically the theme park attractions?
The first glimpse we got was the Tron Dance party at Disneyland, which was pretty amazing. Next we'll get a lightcycle coaster in Shanghai Disneyland when that opens. The coaster will feature the moto-coaster style track and system, and will use screens and other wizardry to bring the grid to life. Of course, that means in order to get some Tron theme park action, you'll have to go to China…or will you?
Rumors are starting to swirl big time for a fifth Disney gate at Walt Disney World. This is just crazy rumor at this point, so take it with tons of salt…but the rumor is that we could see an "Adventure World" type theme, in which there would be tons of new properties introduced. Entire lands dedicated to film properties and different themes, all aimed at the thrill seeking, and storytelling set. Of the lands we could see, we could expect a villains themed area, a Marvel area (don't ask us how, it's just a rumor) a Star Wars Land (thus negating all rumors of a land at Disney's Hollywood Studios) and yes…a Grid. An entire land based on Tron. There would definitely be a replica of the lightcycle coaster, and some other huge attractions.
Again, this is all rumor, and not happening until the park says it's happening. Plus, the time frame on this looks to be at least ten years out, so it's a possibility that if this next Tron sequel ends up happening, and it ends up being huge, we could see a new ride taking shape before a new park is announced…if one ever is.
Stay tuned for more from Disney, and be sure to get social with us on Facebook, and follow along with us on Twitter @BehindThrills for the latest updates!