Walt Disney World is definitely a place where magic happens. How about when that magic comes flying in at faster than the speed of sound, and breaks in Delta Formation? That's TRUE magic! The Navy's Blue Angels, the precision flight demonstration team, gave guests at Walt Disney World's Magic Kingdom a heck of a wake up on Thursday morning as they buzzed Cinderella Castle.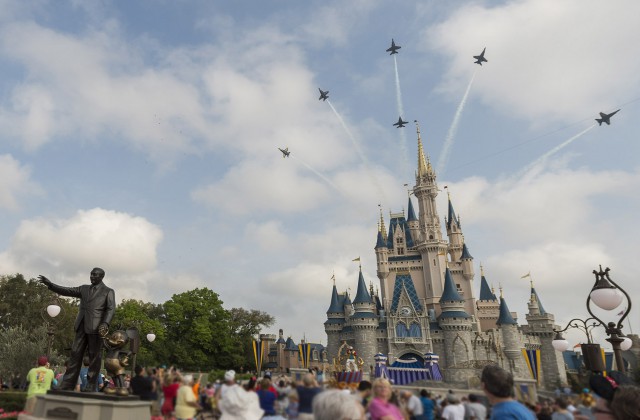 The Blue Angels are based out of Pensacola Florida, and were on their way to an air show in the Melbourne area. What better way to start the day, than to have six supersonic F/A-18 Hornets buzz one of the most iconic locations in the world?
Video-The Blue Angles buzz Cinderella Castle!

It's just one of the cool, and unexpected things that happens at Magic Kingdom. The Blue Angels will be performing this weekend, and if you've never seen one of their shows, you are truly missing out. They perform high speed, low altitude maneuvers that keep you on the edge of your seat.
Stay tuned for more from Walt Disney World, and be sure to get social with us on Facebook, and follow along with us on Twitter @BehindThrills for the latest updates!