Yoda is responsible for about three quarters of my philosophical viewpoints. You just can't ask for a wiser teacher, or a more unlikely master. This year, the voice of Yoda-Frank Oz, is just one of the many stars scheduled to take part in Star Wars Weekends. Of course, there will be many others, but probably the biggest deal in anyone's book should be Frank Oz! Star Wars Weekends will kick off this May with a huge line up of celebrities, special shows, and of course merchandise. It's all included with theme park admission at Disney's Hollywood Studios.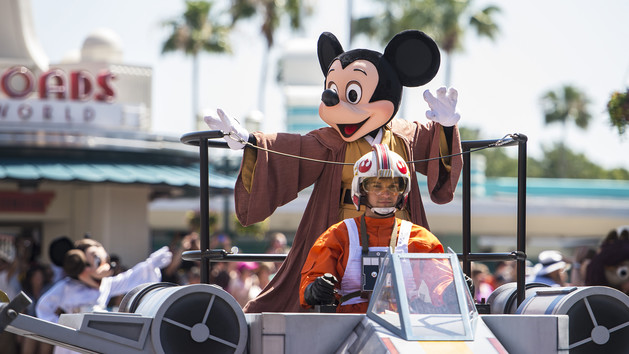 The Force is strong with Disney this year, and will be even stronger in years to come as the world is anticipating the first Disney Star Wars film since the mouse bought Lucasfilm. The Force Awakens will also mark the return of Han Solo, Luke Skywalker and Princess Leia to the Star Wars Saga.
Before you hit theaters this December in search for triple bladed lightsabers, and the droids that you were looking for-Star Wars Weekends will whet your appetite, beginning weekends in May. One of the main draws of the huge event is the celebrity appearances, and this year is turning out to have a huge line up.
Here's who we have so far:
Frank Oz: Yoda (Star Wars: The Phantom Menace; Star Wars: Attack of the Clones; Star Wars: Revenge of the Sith, Star Wars: The Empire Strikes Back, Star Wars: Return of the Jedi; Star Wars Rebels)
Ray Park: Darth Maul (Star Wars: The Phantom Menace)
Peter Mayhew: Chewbacca (Star Wars: Revenge of the Sith; Star Wars: A New Hope; Star Wars: The Empire Strikes Back; Star Wars: Return of the Jedi)
Taylor Gray: Ezra Bridger (Star Wars Rebels)

Some of the entertainment line ups include:

"Star Wars: Rebels" – Relive the adventurous twists and turns of the first exciting season of the Disney XDseries "Star Wars: Rebels," in an all-new show with Star Wars Weekends host James Arnold Taylor and a special guest from the show's voice cast … along with a few surprises!
Autograph Opportunities – For the first time, autograph sessions with Star Wars celebrities will be held in an indoor location, just off Commissary Lane near Star Tours – The Adventure Continues. For complete details about autograph opportunities, be sure to visit StarWarsWeekends.com prior to your visit.
Darth's Mall – Can't find the droids you're looking for? Head over to this new complex of shops near Streets of America for the best selection of Star Wars merchandise in this galaxy or any other!
There's also the huge Symphony in the Stars fireworks show nightly, as well as the Legends of the Force: Star Wars Celebrity Motorcade. Plus, it wouldn't be a Disney event if they didn't roll out some exciting specialty food and drink offerings as well.
Stay tuned for more Star Wars fun, and be sure to get social with us on Facebook, and follow along with us on Twitter @BehindThrills for the latest updates!
For more information about Star Wars Weekends, including tickets, visit the official website by clicking here!