Monsters, chainsaws, killer clowns, and zombies. Is there anything better? Of course there is! How about putting them all together in one massive weekend, and it's not even anywhere close to Halloween! This year, Halloween Extreme is invading Spooky Empire's Mayhem with a massive trade show, as well as monstrous seminars and more. However, the thing most horror fans want is more haunts. This year, Halloween Extreme is going to give horror heads what they want and more with the chance to tour some of the biggest haunted attractions in Central Florida, as well as hear secrets from two of the biggest haunted events in the country! Are you ready to scream?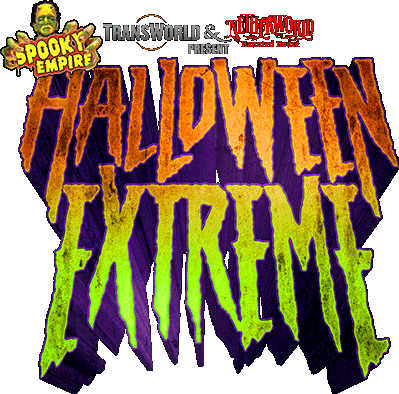 This year the Halloween Extreme fun kicks off with a massive Bus Tour of some amazing Central Florida haunted attractions. The tour will take guests to four of Central Florida's biggest and scariest haunted attractions with a lights on look at each one. Guests on the tour will be among the first to experience the all new interactive game-The Republic. You'll get your brain teased, you'll get touched and you just might get kidnapped! Our friends at Legends: A Haunting at Old Town will also give a full show, as well as a lights on tour of the only year round haunted attraction in Central Florida, and we're pretty sure that Archibald Ashdown is pissed about it. If that wasn't enough, our friends over at The Shallow Grave will be using the tour as a chance to stock up Thadeus's freezer…err…I mean, it will be a huge lights on tour of the amazing event as well as a full experience of both haunted houses.
Then, the tour makes a trek to Tampa for a hair-raising tour of not one, but two of the huge Howl O Scream houses at Busch Gardens Tampa. The tour will provide not only some insight about the event, but give fans a glimpse behind the scenes, and even give you a double dose of terror with the new houses.
In addition to the Bus Tour, there's the massive show floor which will give guests the chance to not only see some of their favorite haunt props in action, but also purchase some major haunt props!
Video-Check out the fun from 2013

WHERE YOU GOIN…we're not done yet!
Then on Saturday the real fun begins as the 15th marks the beginning of some amazing panels. You'll get to see stars from the hit show Face-Off, as well as see awesome make up demonstrations from professional monster maker-Tim J Hayes. Former head of Howl O Scream, Scott Swenson shows us what he's been up to with a look at his horror escape room that is coming to Tampa this haunt season with "Vault of Souls".
Howl O Scream's Robbi Le'Pre will also be unveiling some huge secrets about the event, as well as going over the history. If we had to guess, we'd say there might even be some announcements.
Fans of Halloween Horror Nights at Universal Orlando will not want to miss the massive panel that takes place on Saturday, as they will be at the event to talk about something huge. We're not exactly sure what it is, but last time HHN was at Halloween Extreme, they rolled out Legendary Truth merchandise, as well as some huge details about that year's events. With 2015 being the 25th anniversary of HHN Orlando, we're pretty sure there's going to be some huge announcements made.
Here's the full panel schedule:
Friday May 15th

Time  Location       Speaker                Topic

3PM     Main            Frank Mamana       Advanced Haunt Acting: Dialogue and Character Development

4PM     Main            Chris Kullstroem    Drawn To The Dark: Horror Attractions Around The World!

5PM     Main            Louis Vallejos         Improvisational Acting For Haunted House Actors

3PM    Demo            Melissa Winton     How to Create a Creepy Corroded Metallic Wall Plaque

4PM    Demo            Michael Layton      Make & Take – Intro to Mold Making and Casting

5PM    Demo            William Ramsay     Demo – Terror Eyes! : Effective Use of FX Contact Lenses

Saturday May 16th

Time  Location       Speaker                Topic

12PM   Main             Jake Farmer           What Haunts Can Learn From Theme Parks!

1PM     Main             Scott Swenson       Interactive Haunted Attractions : The Vault Of Souls!

2PM    Spooky          Universal                UNIVERSAL Horror Nights

2PM    Main              Adam Pogue           Fog and Special Effects!

3PM    Main              Face Off Panel        FACE Off Panel

4PM    Main              Robbi Lepre'           The Secrets of Busch Gardens Hallowscream

12PM  Demo         Haunters Meeting    Home Haunters Meeting

1PM    Demo         Tim J Hayes               How To Make A Monster! Prosthetic Application and Airbrushing

2PM    Demo         William Ramsay        MAKE and TAKE Corpsed Skull With Glowing Eyes!

4PM    Demo         Roger Hayes              Make & Take Using Foam in Architectural Haunt Construction /Mini Crypt

5PM    Demo         William Ramsay        Easy, Non-Latex Skeleton Corpsing

6PM    Demo         Allen Hopps               Costume Distressing

Sunday May 17th

Time  Location       Speaker                Topic

1PM    Main            AJ Vermette               The History and Customs of Halloween

2PM    Main            Ben Armstrong          Haunted House Owners Panel

12PM   Demo          Haunters Meeting     Home Haunters Meeting

1PM     Demo          Roger Hayes               Scare the Living Daylights Out of Them!

2PM     Demo          Phil Daley                    Demo: Scenic Painting

3PM     Demo          Tom Murphy               Creature Concept Design and Creation
Update!
The tour tickets have been released, they are $130 for Friday night, $100 for Saturday night, or $220 for both nights. Friday night will have a bus taking guests to Busch Gardens Tampa, with a stop at The Shallow Grave. The bus will leave the  Double Tree parking lot at 5p.m. and will return later that night. The tours will include lights on tours as well as the full experience.
Tickets are on sale now, and will sell out!
Stay tuned for more gory goodness, and be sure to get social with us on Facebook, and follow along with us on Twitter @BehindThrills for the latest updates!
For more information about Halloween Extreme, including tickets, visit the official website by clicking here!