Kong is coming to life at Universal Orlando, bigger and better than ever! The attraction that pretty much put Universal Orlando on the map was the original Kongfrontation, which closed to make room for the Mummy. While that ride was out of date, and not up to modern standards, it did have a certain charm and love. Now a new version of Kong is coming, and Kongstruction is rushing along. The resort is also updating one of it's staples in CityWalk, as the resort continues it's never ending evolution.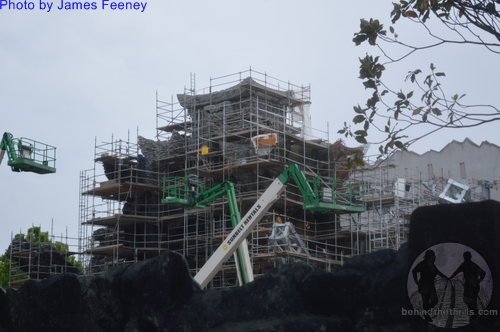 Kong will be located right between Toon Lagoon and Jurassic Park in a menacing looking building that is starting to take shape more and more every day. The building is getting tons of rock work on the outside, which is now starting to develop a face. The menacing face looks to have a Kong like resemblance, and will be more visible once the scaffolding is down from that area.
No details have been officially released about Kong yet, but the attraction is believed to be a version of the King Kong 360 at Universal Studios Hollywood. That version is an add on to the Studio Tour, and is just a 3D screen with effects added. Since there is no Studio Tour in Orlando, the ride will have to be a bit different, and could utilize other effects such as dinosaurs animatronics, and more scenes to create the feeling of being on Skull Island. Many rumors have said that the ride could utilize a Kong animatronic, much like the original attraction at Universal Studios Florida.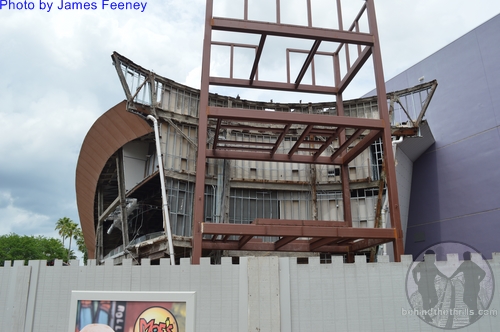 Meanwhile the former Nascar Cafe has started to see some movement in CityWalk, as the the building has been getting gutted, and had new items added to the outside. While the park has yet to confirm anything on that project either, the rumors state that it could be a NBC Sports themed restaurant, with tons of sports memorabilia, as well as a microbrewery, with beers made on site. It's been a successful venture at parks like Disney, and would definitely fit in with a Sports Bar theme.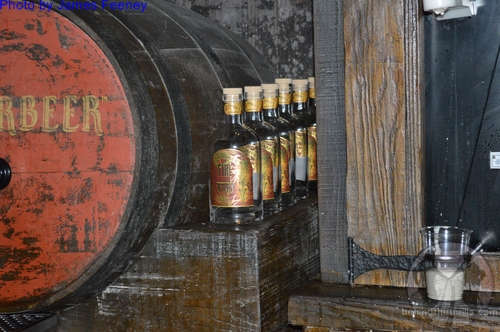 In the Wizarding World of Harry Potter, there is a new popular drink. Fire whiskey has been all the rage since it made it's debut a few weeks back. Now, the park is also offering specialty cocktails featuring the drink, with shots of the Wizarding Worlds favorite whiskey mixed with Strongbow Cider. There are reports of more whiskey based cocktails surfacing soon.
Slideshow-Check out even more pictures from Universal Orlando
Stay tuned for more from Universal Orlando, and be sure to get social with us on Facebook, and follow along with us on Twitter @BehindThrills for the latest updates!
For more information about Universal Orlando, including tickets, visit the official website by clicking here!