The clown princes of the sea, Clyde and Seamore are returning to High School in am all new show at SeaWorld Orlando,  and the wait is just about over. The all new show will make its' full debut on April 16th, and will be a hilarious new take on high school as Clyde and Seamore venture to Sea Lion High.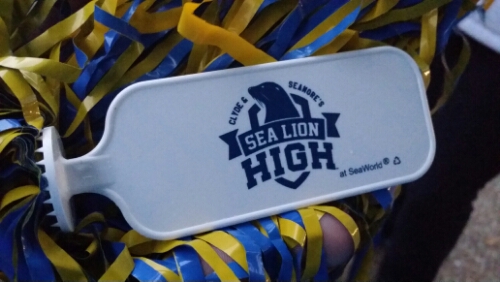 The all new show will have a grand opening on Thursday April 16th. The new addition is several years in the making, with the animals learning several all new behaviors.
The cast also had to learn not on new lines, but also had to learn the new behaviors for the animals, and then work for countless hours to get to every behavior down.
In February, the park had a small preview of the all new show for passholders and media. While we didn't get to see the entire show, the part we did was absolutely hilarious.
Video-Get a glimpse of the all new Sea Lion High at SeaWorld Orlando!

The new show replaces the long running, "Take Pirate Island", which closed in late 2014.
The new show will be completely new from the ground up, including a new set, new music and all new behaviors. One of the staples of the former Clyde and Seamore show was the inclusion of a preshow filled with mimes. A pirate mime would come out on stage and usher people to their seats, all while having fun behind the guests back. That feature is not expected to be part of the new show.
Slideshow-Check out pictures from Sea Lion High!

Clyde and Seamore Sea Lion High will premiere April 16th.
Stay tuned for more from SeaWorld Orlando, and be sure to get social with us on Facebook and follow along with us on Twitter @BehindThrills for the latest updates!
For more information about Sea Lion High, including SeaWorld Orlando tickets, visit the official website by clicking here!