It wouldn't be Star Wars Celebration without talking about video games, and that's exactly what EA Games and Lucasfilm did by giving select media a huge preview of an all new Battlefront Game. The two companies have a ten year contract, and really this is about the first big game in that contract. Battlefront is being designed by DICE who did the work on Battlefield, and a few other games. While the new game looks amazing, the partnership does make fans of the series a little anxious.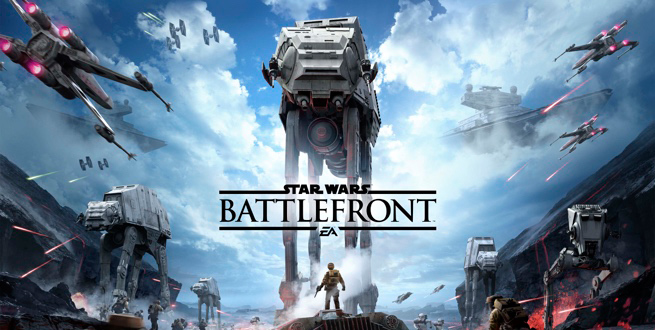 The rumble of an Imperial Walker shakes your controller, and you hear the shot of a laser blast in the distance. The weapons look just like they did on screen, and so do the vehicles. That's where the latest edition of Star Wars Battlefront takes players. The studio has actually scanned the props and vehicle models from the films, and uses them in the game. It creates a feeling of actually being in the film.
Video-Star Wars Battlefront hits this November

The game is going to be released on November 17th across all platforms, and will also have downloadable content that will allow you to tie the game in with the new Star Wars:The Force Awakens. The Battle of Jakku will take place before the events of the film. The game will allow players to play as Luke Skywalker, Darth Vader or Boba Fett. The game will also give the ability to switch from 1st person to 3rd person, and even fly tie-fighers, X-Wings and pilot AT-AT's.
Now, while the game looks amazing the fact that Star Wars is being left in the hands of EA is making fans groan.
Actual conversation with my son:
"Star Wars Battlefront is hitting in November."
"Cool, who's doing it?"
"EA Games"
"OH GOD WHY!"
The company has a reputation of just cashing in on a name, without putting out any effort. They churn out countless versions of the same game, and just add smaller new details. The result is a sub-par game. The company also is very much reliant on DLC, which many will tell you is just a way to grab more cash. Star Wars, unfortunately, isn't immune to the DLC either, as a MAJOR addition is being made on day one…it's an addition that should be included, especially since the game will directly tie into the new movie.
Still, the game looks amazing, and we're being very hopeful about the new partnership, after all, it's still being reigned in by Disney.
Slideshow-Check out even more fun from Star Wars Celebration Anaheim

Stay tuned for more from Star Wars Celebration, and be sure to get social with us on Facebook, and follow along with us on Twitter @BehindThrills for the latest updates!