For the first time in a very long time I'm excited about Star Wars. It's all thanks to Star Wars Celebration. The four day event has wrapped up in Anaheim, and it has been an amazing four days full of reveals, new ideas and just overall excitement. It's given us a look at some amazing new films coming out, as well as new toys, games and possibly some theme park ideas. The tenth installment of Celebration has brought out the kid in many of us, and made us all want to be Jedi's again. It also gives us something that we didn't have before…hope. Celebration has brought out hope that Star Wars can live forever, and it can be everything to the fans that it once was. It can also be everything to future generations that it was for us growing up.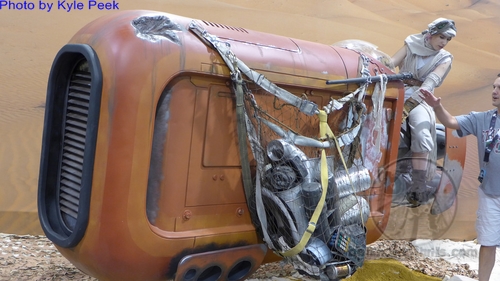 George Lucas made the first Star Wars film, and audiences were captivated. Since 1977 Star Wars has become one of the biggest franchises to ever exist, making spinoff movies, games, cereal, toys, and clothes. It's almost a cult like following for fans, and it's been a huge part of many of our lives.
Then the dark times happened. It seemed like George Lucas was bound and determined to destroy everything that he created, one digitized special edition at a time. Just when things didn't seem like they could get any worse, Disney bought Lucasfilm…essentially buying Star Wars. While many remained hopeful, there were those who knew it was only a matter of time before we got campy, silly animated Star Wars films. Then, the first trailer hit…many were blown away. I wanted to be. I really did. I wanted to feel the way I did when I saw the first Star Wars film as a kid. I simply wasn't. Sure, there was excitement, but something was missing.
Star Wars Celebration began last Thursday, and while we were killing time at SeaWorld, waiting for another event to start and working on a review of their latest show, I decided to live stream the Force Awakens panel, which would essentially open Celebration. The live stream was amazing, and it's going to change how big cons are done…but more on that later.
I saw Luke Skywalker and Princess Leia come on stage, and I felt something that I hadn't felt in a long time. I was giddy, I was excited, I was crying! I was seriously crying! My wife looked at me and said "What the eff is wrong with you?"
"LUKE SKYWALKER AND PRINCESS LEIA ARE ON STAGE!"
Then the footage was shown…and there we were all were. I was 5 years old again, watching with a big grin as the music and the familiar world of Star Wars danced across the screen.
In fact, as pictures poured out from Celebration, it looked like everyone was feeling the same way. This was what being a Star Wars fan was all about!
Star Wars Celebration did something right, they made it cool to be a geeky fan, and they made it the envy of everyone else who wasn't there. Sure, we could watch it online, but that's nothing compared to actually being there.
By streaming all the main, big, geeky moments live, Star Wars and Disney is changing how people view the geeky events like Celebration and Comic Con. It's making it less of a news blurb, and more of an event. Everyone near a computer was watching the streams, everyone wanted to know what was happening. Other movie studios were watching going "DAMN! Why didn't we think of that!"
In this age where everyone has a camera, it's only a matter of time before things are leaked online. How many times have seen "top secret comic con footage" leaked less than five minutes later? It's garbage! Why risk these leaks when you can just show it in a big way, to your intended audience? We have a sneaking suspicion that many cons and studios will start releasing footage like this from now on.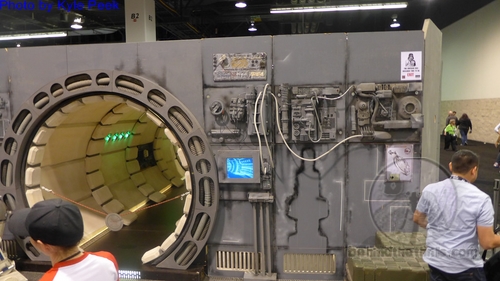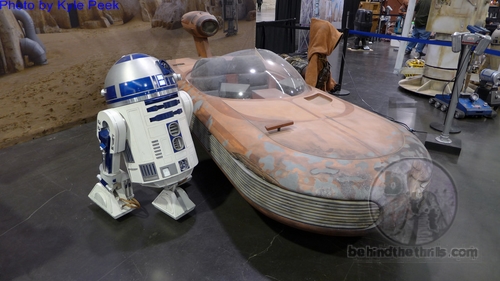 Now, let's talk about the future of Star Wars…specifically, theme parks. We know that we'll get some news this year about Star Wars attractions at Disney. We were hoping to get some news about it at Celebration, but that didn't seem to be in the cards. So, now we wait until D23 Expo…but it IS coming. The energy around Star Wars right now is just amazing, and if Disney doesn't announce a huge Star Wars presence in their parks, then they are slicing off their own arm with their own lightsaber.
As far as getting a sneak peek, the potential was everywhere at Celebration. From the amazing photo opportunities, to the huge sets, and costumed characters roaming around, to even the video games. Everything at Celebration could be used in a huge Disney theme park attraction.
The parks already do great with their Star Tours attraction, The Jedi Academy. Next year they will roll out a "Star Wars Day at Sea" on Disney Cruise lines, with more Star Wars characters, meet and greets, special film screenings and cap it all off with a huge Star Wars Fireworks show. The future of Star Wars isn't "what will they do", it's more like "what won't they do". While Disney could do anything with the franchise, and make money, they've got stiff competition, so they have to get it right.
Despite what fans will tell you, and what the company says out in the open, there is a real worry that Universal could use the Wizarding World of Harry Potter, as well as the aggressive construction schedule to take some of the interest from the Disney parks. Will Universal topple Disney as number one? Not likely…BUT they could put enough of a dent in their market share that it causes Disney to get aggressive with their planning and construction schedules. Both Avatar and Disney Springs were announced several years ago, and yet both projects are yet to see a completion date. Yet, Universal has not only opened a huge new section devoted to Harry Potter, but also a huge new hotel, with a second new hotel on the way. Then there's also rumored plans for a waterpark, a King Kong attraction and even more that haven't been announced…but all of which are already under construction.
With the renewed interest and energy in Star Wars, Disney can look to squash this rebellion from Universal in one fail swoop. In fact it's not a matter of if, but more of when.

Slideshow-Check out even more fun from Star Wars Celebration Anaheim

Stay tuned for more from Star Wars Celebration, and be sure to get social with us on Facebook, and follow along with us on Twitter @BehindThrills for the latest updates!