The thing about rumors is that sometimes you get great information, other times you have to eat crow. Crow is an acquired taste, but it's not so bad. Busch Gardens Tampa is building an all new coaster for 2016. The footprint on it is extremely small, but it is making some huge transformations in the park, most notably around the Serengeti Railway. We've been told it would be a clone of the Premiere Rides coaster that Busch Gardens Williamsburg opened this year, Tempesto. Boy, were we wrong!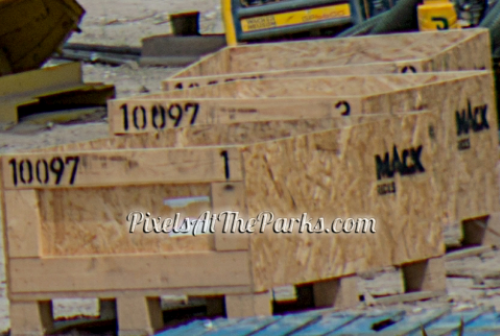 The gang over at Pixels At The Parks has a huge update from the weekend at Busch Gardens Tampa. They just happen to have spotted an all new crate sitting on site, with the Mack Rides logo on the side.
Mack rides? Yep. They make tons of great coasters, including spinning coasters. The big rumor, besides the Tempesto clone, was a Mack Spinning Coaster. Looks like that's exactly what the park is getting.
No details have been announced just yet by the park, and it could be a diversion, but that's unlikely. So now the question is, what will the ride entail? Rumors point to an indoor spinning coaster, with a King Tut theme. The coaster is taking over the home of Tuts tomb.
Besides, an indoor coaster would be a first for Busch Gardens Tampa.
The new addition means that 2016 is going to be huge for coasters in Florida, with SeaWorld Orlando building an all new coaster as well.
Special thanks to Pixels in the Parks!
Stay tuned for more from Busch Gardens, and be sure to get social with us on Facebook and follow along with us on Twitter @BehindThrills for the latest updates!
For more information about Busch Gardens Tampa, including tickets, visit the official website by clicking here!