It's been teased since Halloween of last year, but now, it's official. Jack is back. A strange call came in at about 11 a.m. this morning, as the children's classic "Pop goes the weasel" played, and slowed down. Then the familiar growling sound as Jack announced that yes, he was back. It's the beginning of what is sure to be a fun season of teases, mischief and chaos, as the announcement season for Halloween Horror Nights kicks off into high gear.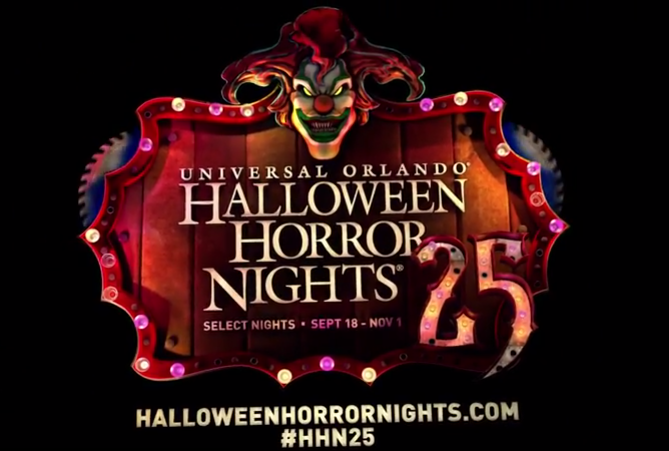 Chaos Reigns seems to be the ultimate theme here this year, and it's actually quite catchy. We see the old familiar Jack, only…he's different somehow. A little meaner.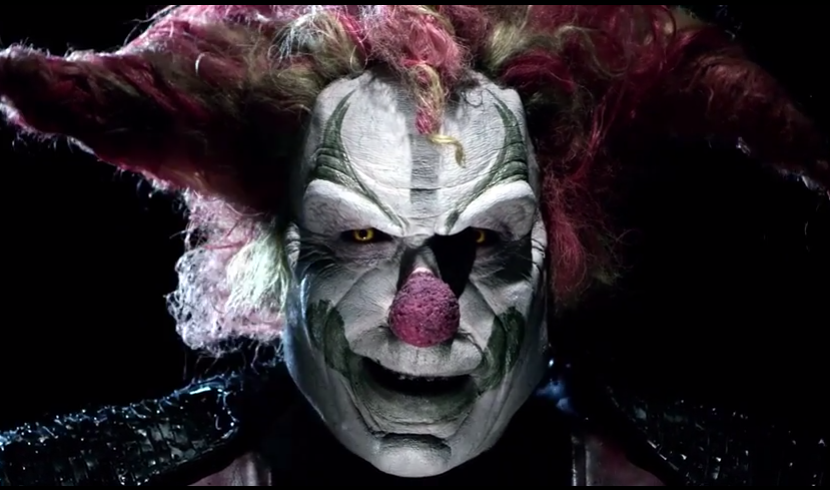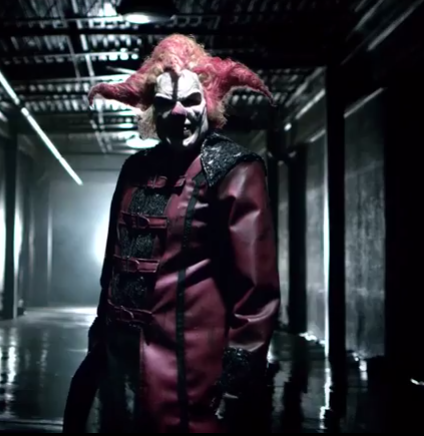 That's a good thing for fans, but a bad thing for those who get in his way. Jack is the original HHN Orlando Icon, coming to life in 2000, and ushering in a huge age of "Icons" that would carry the event, and give it a voice. The icons would change every year, but Jack was always the favorite…just as many first children are. Over the years he's changed and has become more of an icon, going from the typical clown, to even a ringmaster. Now he's something…different. We just don't know what yet. We also don't know just what we will have in store for the rest of the icons that came after.
Want more Jack?

Jack is just the tip of the iceberg, as the park promises more than ever before. The event will run a record breaking 30 nights, will have double the amount of scareactors roaming the park, and more houses than ever. That's right, Halloween Horror Nights will have nine full haunted mazes. There will also be five scare zones, as well as two shows (one of which HAS GOT TO BE Bill and Ted), and roaming hordes! That's a lot of mayhem for one place! The park hasn't released the full details yet, but you can bet that they are coming soon.
Update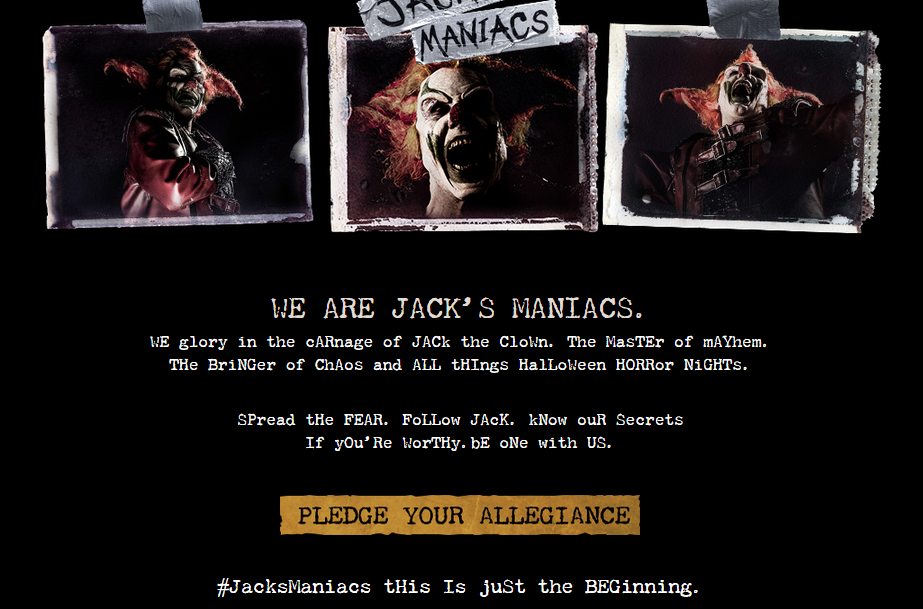 On the official site
, there's a sign up page for guest to "Pledge Your Allegiance". There's also a call to follow the hashtag #JacksManiacs. While this would normally not be a big deal, this is HHN Orlando we're talking about…and usually, everything means something. Why are the letters capitalized? When you take out the lower case you get:
WE AR JACClW TMTEAY TH BNG CA ALL HI HLW HORR NGHT SPH FEARFLL JAKNR S IORWTHE N US HIS BEG
Which works out to be nothing of importance.
WE glory in the cARnage of JACk the CloWn. The MasTEr of mAYhem. THe BriNGer of ChAos and ALL tHIngs HalLoWeen HORRor NiGHTs.
That means absolutely nothing, and even trying to find an anagram, it leads to nothing.
However, if you take the lower case letters, you get this:
read te oow c kow ouecrets f yu'e ory.b oe with acksaniacs tis s jut the inning.
Still nothing. We're not that good at anagrams. Perhaps someone else can figure something out? Still, sign up for updates, and follow #JacksManiacs on Twitter for more in the coming months.
Stay tuned for more from Universal Orlando, and be sure to get social with us on Facebook, and follow along with us on Twitter @BehindThrills for the latest updates!
For more information about Halloween Horror Nights Orlando, including tickets, visit the official website by clicking here!