People who go to theme parks, and special events see the finished product, and it's usually something pretty darn amazing. The things that we don't get to see, however, are usually nothing short of miraculous. It could have been a ride that was completely different from the version that you didn't get, a detail that just didn't turn out, or the shape of an event that just didn't come to be. Halloween Horror Nights at Universal Orlando is full of those details that were never used. From icons that were changed at the last minute, to the direction that the entire event was going to go. It's something that the creative team rarely gets to talk about, but it is something that happens on occasion. Over the weekend at Spooky Empire's annual Mayhem festival, the team from Universal was on hand to talk about some of the things that happen behind the scenes, and all the great people that work on the event. Director of Creative Development, Mike Aiello was also able to share something that was supposed to happen, but never did…remaining in the shadows forever.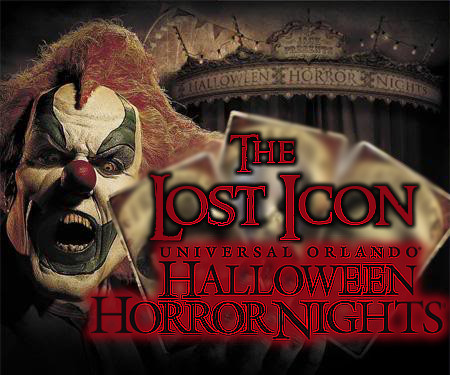 Halloween Horror Nights Orlando is celebrating it's 25th year this year. It's a time that the park will most likely look back to the past. It's a past filled with tons of characters, demons and just all around terrible things…but in the best way possible, if you're into that sort of thing.
The event has had it's share of characters that have been replaced at the last minute, existing only in some brief marketing stints, or as characters. One prime example is Cindy Kaine, who was supposed to be one of the parks icons. She was allegedly going to be the daughter of a terrible family that ran the funeral home, that did terrible things to bodies, alive and dead alike. However, due to several missing children in the area at the time, the team at Universal pulled the plug on Cindy, and she only existed only in name. Then there was Eddie, who was supposed to take the reigns from Jack in 2001. Of course, the 9/11 terrorist attacks happened, and Eddie was replaced with Jack who wasn't as over the top as Eddie.
Still, there was one that was very close to happening. It started with Jack's Carnival of Carnage in 2007, and was supposed to be an extension of the story. See, Jack held the carnival in 2007, but who's land did he have it on? It's a tale crafted by Mike Aiello that was supposed to be the direct sequel, and would have gave light to a more "traditional" Halloween celebration, filled with scarecrows, pumpkins and the true spirits of Halloween.
The tale was rarely told, and really no one else on the current design team had heard it, and fans surely had never heard it.
Video-Listen to the tale of Crow, the Lost HHN Icon

What ended up happening in 2008 was, of course, Bloody Mary. During that year, Dr. Mary Agana broke from this world, and brought guests into her mirror world, where everything we knew was twisted, and evil…that is everything but a few little details.
That year also saw the return of many iconic Halloween traditions in the park. Jack o Lanterns hung from the trees, mischievous trick or treaters roamed the streets, and there were the classic scary tales of the Headless Horseman, and Sammhein. Those characters and stories weren't exactly part of the Bloody Mary story, but it fit, and was amazing. Hearing this story kind of makes houses like The Hallow, fall into place. Yes, we know…they worked amazingly into the story, but hearing the story of a man who was pecked alive by crows, and replaced with pumpkin, and wore the garb of a scare crow seems to fit more into a traditional Halloween story.
Why did it get cut? Probably because the idea of Bloody Mary at Halloween Horror Nights is huge. She is an urban legend that everyone in the world has heard. Crow? An amazing tale, but as the A&D team will tell you themselves "It's a theme park, and a business."
Maybe one day Crow will come from the shadows of Halloweens past, but not likely. As the park makes the event bigger and bigger every year, it's likely that Crow and other icons could stay in the past, though new nightmares are just beginning.
Stay tuned for more from Spooky Empire, and Halloween Horror Nights, and be sure to get social with us on Facebook, and follow along with us on Twitter @BehindThrills for the latest updates!
For more information about Halloween Horror Nights at Universal Orlando, including tickets, visit the official website by clicking here!