Next month, Sugar Factory a new 8,000 square brasserie and retail shop at the new I-Drive 360. Sugar Factory, will have a "MTV meets Willy Wonka" vibe with a large dining room, patio, shop, and a walk-up window for guests on the go.Created by a team of world-class chefs, menu selections include everything from pancakes and sweet and savory crepes to salads, burgers and pizzas. Sugar Factory will also be the first establishment to offer brunch on the city's famed International Drive.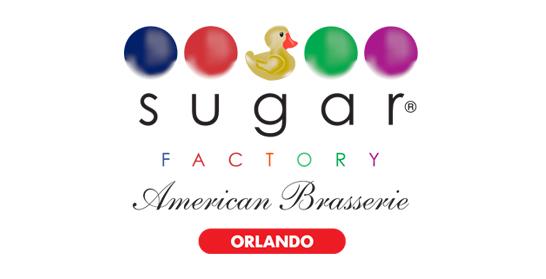 Of course, a name like Sugar Factory would not be fitting unless they had some note worthy desserts. One of the icons of the boutique chain is the King Kong Sundae, which packs a sweet punch for up to 12 people with 24 scoops of ice cream, sprinkles, caramel sauce, fudge sauce, strawberry sauce, marshmallows, Reese's Pieces, chocolate chip cookies, crushed waffle cones, gummy bears, white chocolate strawberry shavings, sliced bananas, toasted walnuts and whipped cream, then topped off with giant swirly pops. Sugar Factory's decadent shakes, hot chocolate and frozen hot chocolate selections will include the chocolate cookie jar shake, made with Oreo cookie crumbles, chocolate chips, caramel, vanilla ice cream and pure melted chocolate, topped with whipped cream and Oreo cookies; coconut hot chocolate; classic frozen hot chocolate; and peanut butter hot chocolate.
If desserts that are a bit of an adult treat to them are more your thing, Sugar Factory has you covered. Sugar Factory has many signature 60-ounce alcohol-infused smoking candy goblets on the menu including The Lollipop Passion, which is made with coconut, pineapple and melon flavors, and adorned with candy necklaces and swirly lollipops. The martini selections will include the Blow Pop martini, finished off with a Pop Rocks rim and Blow Pop in the glass, as well as the s'mores martini, a comforting combination of chocolate and marshmallows, garnished with a graham cracker rim.
Sugar Factory American Brasserie at I-Drive 360 will be open daily for lunch and dinner from 11 a.m. to close and brunch from 10 a.m. to 3 p.m. every Saturday and Sunday. Reservations and large-group bookings are available by calling 407.930.6739. Sugar Factory Orlando is located at 8371 International Drive, Orlando, Fl. 32819.
Stay tuned for more from Sugar Factory, and be sure to get social with us on Facebook, and follow along with us on Twitter @BehindThrills for the latest updates!
For more information about the Sugar Factory, visit the official website by clicking here!