Y'all know me. Know how I earn a livin'. I'll catch this bird for you, but it ain't gonna be easy. Bad fish. Not like going down the pond chasin' bluegills and tommycods. This shark, swallow you whole. 40 years later, audiences are still in love with the shark that swallows ya whole. JAWS is a legend in movie history, and is the pillar of many great careers, as well as a few amazing theme park moments. Now, just when you thought it was safe to go back in the water, JAWS will return to the big screen to celebrate 40 years of terrorizing the deep.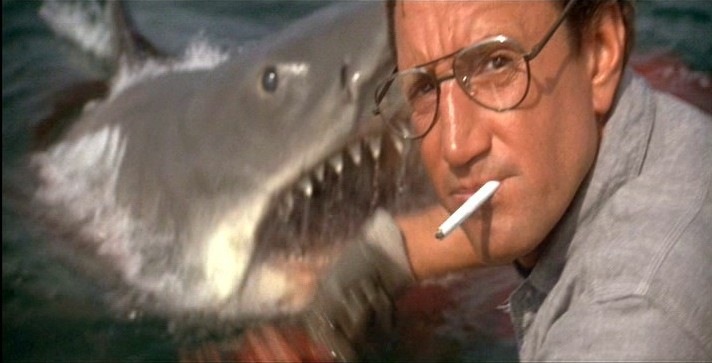 JAWS will return to theaters on June 21st and then on 24th. The legendary shark will swim to theaters in restored versions, and will include an introduction by Turner Classic Movie's own Ben Makiewicz. The film, originally released in 1975, is credited with being the first big summer Blockbuster, and changed the way that studios released movies. The film was based on the Peter Benchley novel of the same name, and famously, had everything go wrong that could. It was the first major film for Steven Spielberg, and helped to launch a legendary career.
In 1990, JAWS would become one of the first major attractions for Universal Studios Florida. It would also become a major part of the Studio tour at Universal Studios Hollywood. While the ride closed at Universal Studios Florida, it still remains a huge part of the landscape, and atmosphere at the park. It also remains as a signature part of the Studio Tour at Universal Studios Hollywood. In fact, the massive shark just got a major overhaul as part of the all new Nighttime Studio Tour, which will run for a limited time this summer.
Video-See Jaws come to life at Universal Studios Hollywood

While the ride is gone at Universal Studios Florida, being replaced by The Wizarding World of Harry Potter-Diagon Alley, it is still remembered fondly. Tributes are all over the park, both in plain sight and hidden away, where only those who know about them can find them.
Video-JAWS Shrunken Head tribute in Diagon Alley
The movie still holds up, and still thrills audiences after 40 years. While there are countless versions of it on DVD, Blu-Ray and Television, there's nothing like seeing the film on the big screen, with an audience. It's a rare occasion, and one that everyone should take advantage of.
Tickets go on sale Friday May 29th, and will be in limited quantities. Check the official site for showtimes near you.
Stay tuned for more from Universal, and be sure to get social with us on Facbeook, and follow along with us on Twitter @BehindThrills for the latest updates!
For more information about Universal Studios Hollywood, including tickets, visit the official website by clicking here!