No, it's not exactly an "Indiana Jones" themed restaurant, but it's pretty close, and it's pretty cool regardless. It's Jock Lindsey's Hangar Bar, and it's set to open at Downtown Disney this fall. The all new lounge will be located right next to the newly opened "Boathouse" restaurant, and will feature tons of period pieces, and could very well be an interactive bar, much like the all new Trader Sam's Grog Grotto. The new lounge takes the character from the Indiana Jones series, and gives him a place of his own.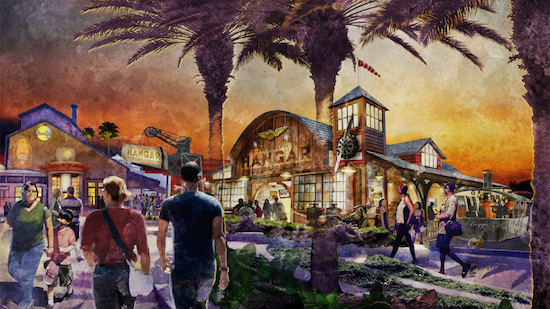 The new lounge will be tucked, literally, right between The Boathouse restaurant, and the under refurbishment
Paradiso 37. The new lounge will serve specialty cocktails, as well as small plate dishes and will be set during the same time as the Indiana Jones films. The menu will even feature "Rolling Boulder Meatballs", a little tribute to the film that started our favorite Fedora wearing, whip cracking, adventurer on the big screen.
The theme definitely looks to be from the 30's and 40's, just like the original Indiana Jones series. The restaurant will feature a "diving bell" booth, and propeller ceiling fans. Specialty drinks, such as "Hovito Mojito", made with Barsol Quebranta Pisco, fresh lime juice and simple syrup, will be on the menu, and we have a feeling that the drinks are just a formality to a very unique experience. "Air Pirates Everything Pretzels" with house-made mustard and beer cheese fondue will be one of the other small plate dishes on the menu. The new lounge will be Disney owned, and built, so guests should expect a little something special.  The new venue will be intimate, seating only about 150 people on the inside.
For those unfamiliar with Jock, he was featured in Raiders of the Lost Ark. He flew the plane that Indy escaped in, and even had a favorite pet snake, "Reggie".  Guests will be able to sit in "Reggie", his retired steamboat, on the outside patio.
Jock really is an obscure character from the Indiana Jones film universe, but he had a memorable scene.

Jocks is expected to open this Fall at Downtown Disney.
Stay tuned for more from Disney, and be sure to get social with us on Facebook, and follow along with us on Twitter @BehindThrills for the latest updates!
For more information about Downtown Disney, visit the official website by clicking here!