Academy Award winning make up artist, Rick Baker is legendary. No other way to say it. Theme park fans know his work, even if you don't immediately know the name. He's won a total of seven Oscars for his make up work, including having the category created just to honor his work in An American Werewolf in London. Now, fans can own a piece of film history.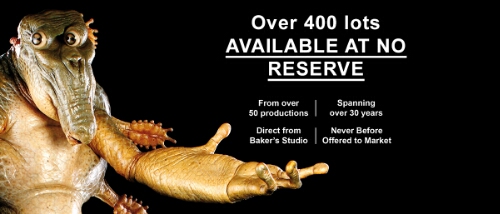 The gang over at The Prop Store has over 400 lots of items available,  including some classic pieces from Men in Black,  The Wolfman and several other huge name horror films.
If you're a fan of Universal, it's fun just to browse the catalog and get a glimpse of some of the props available, and see the creatures he's created. From The Grinch, to MIB and even Harry and the Hendersons, he has had his hands on some of the biggest Universal film characters.
Probably one of my favorites are the Gremlins puppets,  even some with the electronic servos still attached!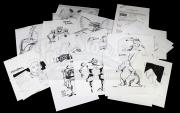 One really cool piece is a set of drawings from Captain Eo. He did tins of work on the creatures from the film featuring Michael Jackson…and you can own it.
While Hollywood has gotten away from using practical effects, there's still something timeless and cool about actually seeing a creature on screen, versus having a CGI creation. Rick Baker is one of the pioneers who pushed the envelope, and created some amazing stuff for the movies that captured imaginations and inspired generations.
The auctions kick off on May 29th, but you can view the line up and even make pre-bids now. How cool would it be to have your own real life Gremlin!
Stay tuned for more fun, and be sure to get social with us on Facebook and follow along with us on Twitter @BehindThrills for the latest updates!
For more information,  or to make your own bids,  visit the official website by clicking here!