Disney isn't telling us where the Rebel Base is, but they are pulling back the details on the all new premium lounge experience at Star Wars Weekends. The Rebel Hangar will allow guests to experience a long forgotten space port, and mingle with other rebel pilots while munching on Star Wars themed food and cocktails.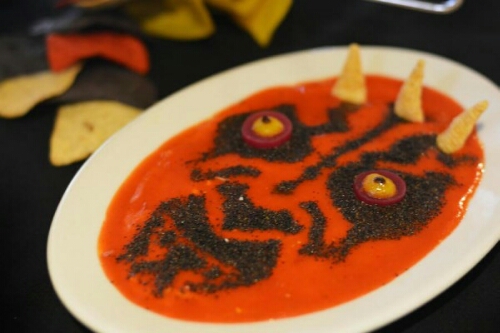 Reservations are required,  but from the sounds of things,  everything is on an à la carte pricing structure. Options will include things like Sith Salsa, and Yoda Key Lime Pie.
Here's more options:
-Spicy pork wings topped with piquillo pepper sauce
-Slider sampler featuring barbecue-braised brisket with coleslaw, and barbecued pulled chicken with arugula
-Hummus with red pepper coulis, black sesame dust and corn tortilla chips
-Pilot's Pomme Frites – these are tossed with parmesan cheese, garlic and parsley with a garlic aioli for dipping
-Ensalada Naboo – seared chicken breast, bibb lettuce, grape tomatoes, watermelon radish, almond frica, and a parmesan-peppercorn ranch dressing
-Lightsaber Bites – hand-dipped corn-battered knockwurst sausages with house-made chips and mustard dipping sauce
-The Dark Fried – Chicken and Darth Vader waffles served with maple syrup and sweet barbecue sauce
-Trio of Thermal Detonators – spicy pork wings topped with spicy piquillo-pepper sauce and slaw
-Fruit and Cheese "Sabers" featuring Tillamook cheddar, Brie, goat cheese, pickled vegetables, crostini, cheddar crackers, blueberries, raspberries, honeydew melon, strawberry, olives and gherkins
-Yoda Key Lime Cake
-Trio of Star Wars mini cupcakes, including Mini Darth Vader (chocolate-peanut butter), Mini Yoda (chocolate-hazelnut), and Mini Jabba the Hutt (salted caramel latte) served in the Han Solo Carbonite Souvenir Box
Also part of the fun is a new cocktail menu:
-Imperial Blue – Maker's Mark Whisky, Cointreau, Blue Curacao, sweet and sour, topped with Sprite
-Tatooine Sunset – Stoli vanilla, Parrot Bay Coconut Rum, pineapple juice with grenadine
-Rebel Red – Grey Goose vodka, Chambord, sour mix and a splash of grenadine
-Dagobah Swamp Juice – Midori, Tito's Handmade Vodka, sweet and sour, topped with lemon-lime foam
-The Dark Side – Stoli vanilla vodka, Bailey's liqueur, crème de cocoa and brownie garnish
-Alderaan Ale
Reservations for The Rebel Hangar are now available, and will be available for every day of Star Wars Weekends at Disney's Hollywood Studios.
Stay tuned for more from Walt Disney World, and be sure to get social with us on Facebook and follow along with us on Twitter @BehindThrills for the latest updates!
For more information about The Rebel Hangar, including reservations, visit the official website by clicking here!