Nik Wallenda is a Florida native, so it's only appropriate that his latest record setting stunt take place in his home state, and it takes place on the newest, and possibly tallest attraction the state has seen to date. The Orlando Eye officially opened on Monday, but last week the daredevil who has tightrope walked across all manners of fear inducing gaps, including Niagra Falls, walked on the last place anyone would want to who visits the new attraction. Nik Wallenda walked 400 feet up on the rotating wheel.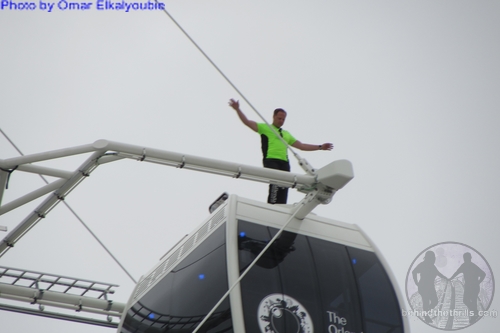 What is it about watching someone perform death defying feats? We are absolutely captivated by it, and Nik Wallenda is no stranger to it. You might even say, it's in his blood. He is a seventh generation member of the "Flying Wallendas", a group of circus acts and stunt performers. The Florida native saw the huge wheel being built and decided with his wife that they had to do something with it. After talking with the folks at Merlin, it was decided that a brief walk on the outside of the wheel, to mark the opening, was the best way to not only set a world record, but to reveal the Eye to the world.
Video-Watch Nik Wallenda Walk the Orlando Eye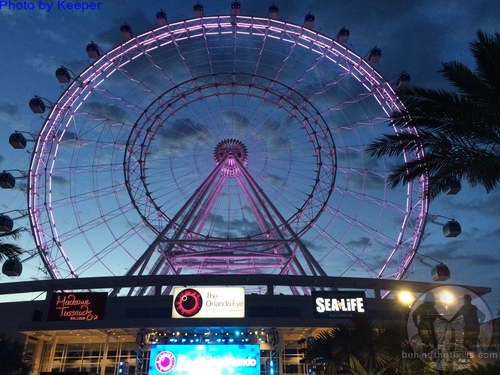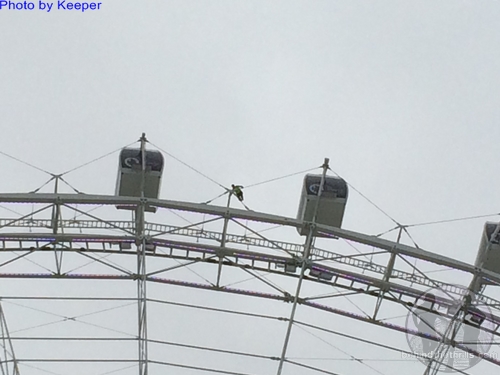 Wallenda walked for about three minutes on the wheel. When you think that it takes about 20 minutes for the wheel to make one full rotation, it doesn't seem like much. However, it was a feat just to get out of the capsule. The Eye is 400 feet tall, and has pieces connecting each gondola to the wheel structure. In order to get around the structure, he had to climb, and maneuver his way, all while the wheel is moving. Doesn't sound that hard, until you realize that the space he's walking on is about as wide as a typical shoe. Add in the wind, and wetness from the rain, and you have conditions that could be extremely hazardous.
That makes ten world records for Nik Wallenda, and one hell of a memorable opening for The Orlando Eye.
Slideshow: Check out even more pictures of Nik Wallenda walking The Orlando Eye
The Orlando Eye is part of the huge I-Drive 360 complex, and one of three new Merlin attractions. The other attractions, Sea Life Aquarium and Madame Tussauds Wax Museum are all located right underneath the Orlando Eye.
Stay tuned for more from I-Drive 360, and be sure to get social with us on Facebook, and follow along with us on Twitter @BehindThrills for the latest updates!
For more information about The Orlando Eye, including tickets, visit the official website by clicking here!