Earlier this week, ScareLA announced their line up of vendors for their new 2015 show. These 200 different vendors hope to offer fans unique goods that they can't find anywhere else.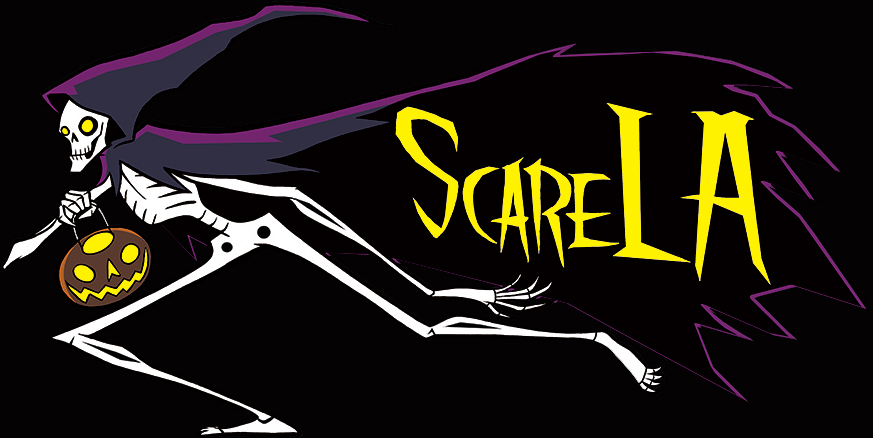 Now on its third year SacreLA is the first Los Angeles convention dedicated to celebrating Halloween. Taking from the entertainment capital of the world, ScareLA pulls some of the most talented people together to showcase new Halloween innovations. This event features top attraction designers and operators, manufacturers, artists, filmmakers and more. The weekend-long Halloween season party celebrates the coolest Halloween selections with attraction unveils, workshops and classes, top industry panels, haunt tours, screenings and activities.
One of the most interesting vendor reveals was "A Corpse Maker" who makes replica corpses (and corpse parts) in all sorts of varieties and in all states of decomposition, as well as other props, costumes, and set pieces for haunted attractions. Another major announcement was Burbank's Bearded Lady Vintage who will be bringing a premium selection of items from their shop to the ScareLA showfloor. Bearded Lady Vintage specializes in vintage Halloween, out of print occult books, horror comics, sideshow ephemera, and other antique oddities.
If that's not enough to get you excited about ScareLA, ScareLA has released the full line up of vendors that have confirmed they will be present this summer for the 2015 convention, including:
10-31 Store
7 Hells: The Retro Horror Art of Bill Rude
A Corpse Maker
Abby Belle
Abracadaver
aGOREable designs
Aidan Casserly
Akumu Ink Clothing
All About Fun Costumes
Altered Flesh FX
Andysocial Industries
Art by Alex Bunch
Art By Austin Hillebrecht
Barkington Bakery
Bat in Your Belfry
Bats Day in the Fun Park
Bearded Lady Vintage & Oddities
Benjamin Russel Art
BLA Illustration & Design
Black Willow gallery
Blood and Teeth
Bloodbath Products
BloodMoon Faire
Bloody Mary
Bob Lizarraga
Bone Yard Effects
BoogerVampire
Brainfarto
Captured Aural Phantasy
Carnevale Obscura Studios
Celebration Cookies
cesar237art
Characters Unlimited
Cheltenham Road
Cinebunnies
Cranie Yums
Creepy Collectibles
Cross Rhodes Escape Adventures
D Star Photo
Dark Delicacies
Deadly Grounds Coffee
Demented Entertainment
Diana Levin
Dottie Grim Designs
Dread Central
Drunken Devil Productions
Enchanted Rumors
Evil Twin Studios
ExoticLenses/We Love FX Makeup
Fabulous Frights
Fanboy Comics
Fear Station
Fiendish Thingies
Figment Foundry
Gantom
GHOULA
Girls & Corpses
Gloomy Goods
Grave Merchants
Grex Airbrush
Halloween Forevermore
Halloween Kid
Halloween Psycho
Haunted Memories Changing Portraits
Haunted Sketches
HERETIC
Hilary's Vanity
Hollywood Makeup Academy
Hot Wire Foam Factory
Imaginerick Studio
Immortal Masks
Inferno Effects
Josh Hancock
Justin Robinson
Kerry Schmidt ARTIST
Kreepsville 666
LA Fear
Light & Dark Imagination
Likeform
Make-up Designory
Mike Vanderhoof / King Mike V
MindBend Events
Monster Asylum
Monster Elementary
Monster Jack
MONTE REVOLTA AND HIS BAND OF THE LIVING DEAD
Morbid Cupcakes & Confections
Motel 6 Feet Under
Mr. Chicken's Prop Shop
MsFormaldehyde
Necrotic Creations
Paula Adams / Psychic Reader
Pocket full of Posiez
PROliFX Special Effects Studio
Refab Studios
Reign of Terror
REYNOLDS ADVANCED MATERIALS/Smooth-On Inc
Rock Rebel
Sacred Origin Comix
Shani Drake Creations
ShellHawk's Creations
Silhouettes by Jordan
Skull Shoppe
SoCal Valley Haunters
SoulFX Sutdio
Spectral Illusions
Stark Graving Mad
Street Drum Corps' BLOOD DRUMS
Sweet Loretta
Sweet Midnight
Tee No Evil
Terry Wolfinger
Th1rte3n's Closet
The Art of Eric O'Neill
The Art of Sketch
The Artwork of Todd Robey
The Best Halloween Store Ever!
The Cake Countess
The Charming Violet
The Fine Art of Kurtis Rykovich
The Graveyard Gala
The Mighty Squirm
The Mystical Apothecary
The Scary Closet
Top Haunts
Toxic Toons / Eric Pigors
Tyrannical Piratical Treasures
Vandal Image Productions
VirtualScreams.com
Waloolahs
Whedonopolis
Yetis and Friends
Zagone Studios
ScareLA will be invading LA this summer on August 8th and 9th. Although pre-sale for tickets has already ended, that doesn't mean that you can't get tickets. Tickets are still available for the event, featuring single day tickets for either the 8th or the 9th or a weekend combo pack which includes admission to both days of the event. Ticket prices start at $30 and increase based on a variety of packages, which day is selected, and if a weekend combo ticket is being purchased.
For more information or to purchase tickets to ScareLA, check out their official website by clicking here.