Piles of bones everywhere, and beetles clearing the flesh off of a rotting carcass. Sounds like the premise to a morbid horror film, but believe it or not, it's the premise to an all new attraction at Orlando's newest hot spot, I-Drive 360, and it's nowhere near as creepy as it sounds. In fact, it's downright entertaining. Skeletons:Animals Unveiled! is one of the many new attractions at I-Drive 360, and while it is a very insane collection of bones, it's actually more fun than you might think.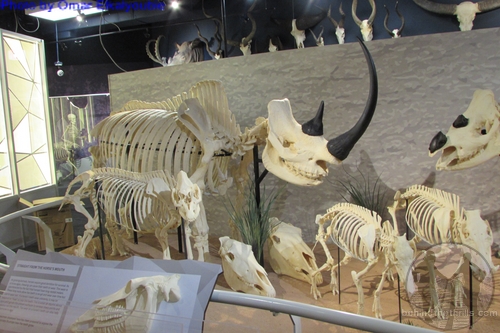 The museum isn't like anything you've seen in a traditional museum before. The skeletons in the exhibits are 100% real, and there's over 400 of them. The museum is aimed at not grossing out guests, but more about learning through experiencing. The museum features over 450 species of animals from all over the world. In fact, education is the main goal of Skeletons.
Video-Get a sneak peek at Skeletons at I-Drive 360

The animals featured are arranged in a huge variety of ways, and poses. They are sorted into things such as region, type and species. The cool thing about the entire exhibit is that all the skeletons are real. They've come from some animal that has once lived, even the mythical creatures.
From the huge rhinoceros, to even an Orca that used to be at SeaWorld, Skeletons takes a huge variety of animals and puts them on display in ways you've never seen. This isn't the first exhibit for the company either. Skulls Unlimited, the operating company, first opened their the Museum of Osteology in 2010 in Oklahoma City. While many might find the idea of staring at skeletons unappealing, it actually is one of the most fascinating, and unexpected exhibits anywhere.
One of the highlights is the Mythical Creatures exhibit. The skeletons are all real, so how did they get a Bigfoot Skull, or even a Centaur?  All of the skeletons used are real, after all. Well, the mythical creatures exhibit is there to help dispel the myths and misconceptions that we might have about some of the creatures on display. Let's also not forget the flesh eating beetles. They will continue to devour an animal right before your eyes…of course it takes a really long time for it to happen, so don't expect a feeding frenzy. The beetles are there to teach a lesson, just like everything else.
Overall, the exhibit is a fascinating look at the world, from an angle we rarely get to see. Education and science are at the heart of the museum, but it does offer a bit of a fun side as well. Did you know that a Manatee has bones in it's flippers, and that they look an awful lot like a human hand?
Slideshow-Check out even more pictures from Skeletons at I-Drive 360!
Admission prices for Skeletons: Animals Unveiled start at $19 dollars for adults 12 and up, and just $13 dollars for kids 3-11. The museum is nestled in the shadow of The Orlando Eye at I-Drive 360, and is open daily from 10 a.m. to 10 p.m.
Stay tuned for more from I-Drive 360, and be sure to get social with us on Facebook, and follow along with us on Twitter @BehindThrills for the latest updates!
For more information about Skeletons: Animals Unveiled, including tickets, visit the official website by clicking here!