It's May, which means we're about 100 days away from our favorite time of year, Haunt Season! That also means that there's tons of information that is going to be slowly leaked out about one of our favorite events, Halloween Horror Nights at Universal Orlando. Over the weekend, Spooky Empire hosted a Q&A panel with some of the creative team behind Halloween Horror Nights. Oh the secrets that they could spill…but didn't. Instead of what's coming this year, the team talked about the past, and all the hard work that the team puts into the event. Of course, there were somethings that were mentioned, it wouldn't be a HHN panel if there wasn't.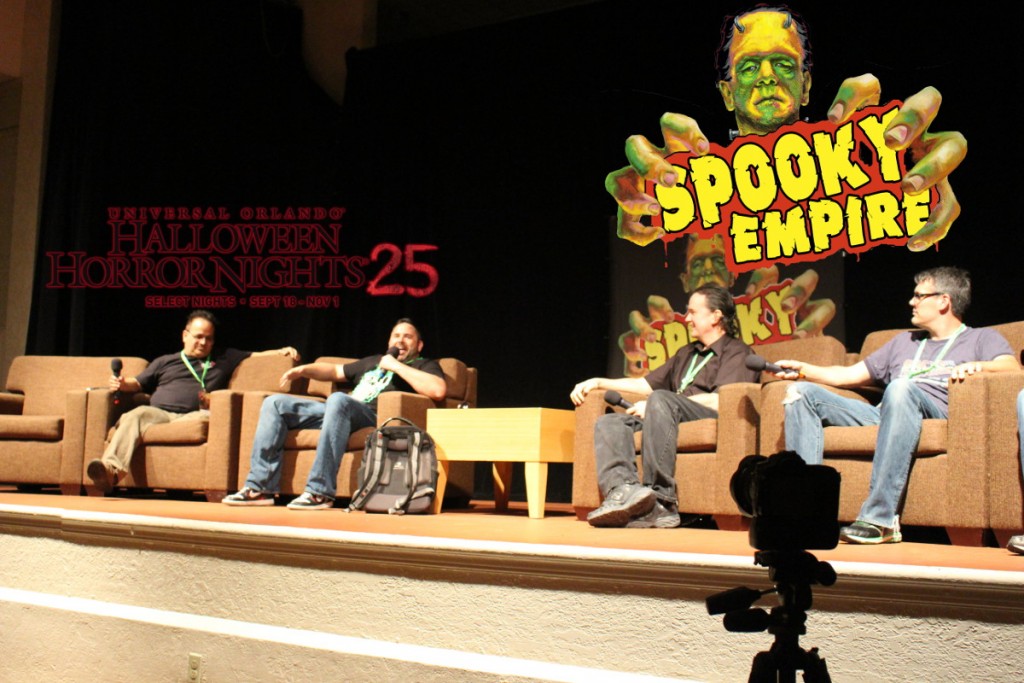 Rick Spencer, Manuel Cordero, Mike Aiello, Michael Burnette, Patrick Braillard, and Nick Collins all took the stage at Spooky Empire, mostly to talk to the fans, and answer questions. Of course, the questions that everyone wanted to know (what's next) didn't get answered directly, but a few tidbits were slipped in, and left open to debate and speculation.
The biggest thing about the panel, these guys are all horror fans. They have worked in the industry many years, some working in Hollywood on films, others working in the theme park industry. Others just happened to be in the right place, at just the right time.
How did they get there? Passion and practice. The group all echoed and stressed that even if you're not able to do what you're passionate about, never stop doing what you're passionate about. Example, if you work in a ditch and run a theme park site on the side(cough cough), and you really want to do it full time, never stop writing. If you study make up and prosthetic work, even if you're flipping burgers at a fast food joint, when you come home, never stop making models and practicing on anyone and everyone. Everyone who gets to do what they want to do, does it through hours, days, months and years of practicing and doing…not just dreaming.
What about the rest? Check out the full panel below:
Video-Check out the full Halloween Horror Nights Panel at Spooky Empire's Mayhem

The past has been an exciting time for Halloween Horror Nights, what about the future? Of course, the crew is really tight lipped, but they did mention a few things in the panel that you can draw your own conclusions from.
Here's a rundown:
Rat Lady could return. "Sometimes things are taken away so that they can come back"
Legendary Truth could also return in some shape or form, it was hinted at heavily
There's a laundry list of items that the team wants to do, but "theme parks are a business" and what the design team does is a small part of the overall scheme. Eventually things will get checked off, but it has to be the right time for it to happen. Things like House of a 1,000 corpses was done well in Hollywood, but the timing hasn't been right for Orlando
Surveys are done every single night asking what people want to see, and how they liked certain houses and elements. As the event grows the shift goes from what the fans want to see, to what the general public (who haven't been coming for 20 years, and don't obsess on these things in May) might want to see. The park is very driven to give the largest audience possible what they want
Icons were created to give the event a voice, instead of "logos" that were used prior to 2000. "The era of Icons" sounds like it could be over as more people attend the event
The event has grown in size, from being several thousand during the run of the event, to over 40,000 a night. For that reason, there are certain elements, like parades, that may never been seen again
James Keaton, the original Jack the Clown, will most likely be returning for the role once again. Jack might also have a new look as the event reaches it's 25th year, or we could be reading too much into phrases like "make up artists created his look at that time".  Which is entirely possible
That's a short wrap up of what we took away from the panel, but take a watch yourself and see what you think.
There was one major announcement, which we completely missed.
What's creepier than finding popcorn FedExd to you from UOR? The hand written messages inside! #HHN25 pic.twitter.com/ZTvwyXMS0g

— TheDeadBodyMan (@JoeyOlds) May 15, 2015
Three separate popcorn boxes were shipped out to fans who had won contests and hunts from things like HHN Compound and The Collective. Both of which were social media games in the past few years that had given guests a little something extra to dig for during the event. That is a sure sign that things like Compound are coming back.
Inside the popcorn boxes were all manners of codes, and writings. It ultimately lead fans to a page hidden on the HHN website.
Several questions, but it honestly looks like a high school, or the space between soundstages and the parks at Universal Orlando. What will be coming from the light? We will find out something big on May 19th which is Tuesday!
The past is definitely remembering, however as the event moves on, it should shape up to be an amazing run.
Stay tuned for more from both Spooky Empire, and Halloween Horror Nights Orlando, and be sure to get social with us on Facebook, and follow along with us on Twitter @BehindThrills for the latest updates!
For more information about Halloween Horror Nights at Universal Orlando, including tickets, visit the official website by clicking here!