This weekend, Spooky Empire's annual Mayhem weekend kicks off. Mayhem, the little sister of Spooky Empire's ultimate horror weekend in October, provides horror fans a place to celebrate a little Halloween, and a ton of  during the summer. The huge annual event is not only bringing huge horror icons together, but will be a showcase of all things horror, from film to props, toys, and more. The event is also teaming up with TransWorld to bring the second "Halloween Extreme" event to the area, with tons of props, seminars and things that the home haunter can actually buy.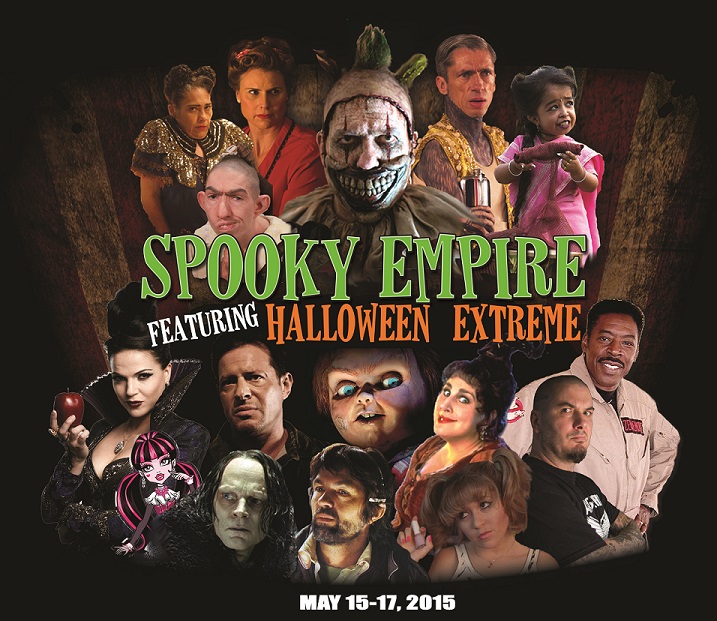 Spooky Empire is known for their reunions and pairings and their Mayhem show is no different. This year Spooky, gives fans of American Horror Story: Freak Show a treat as many of the actors will be in appearance. John Carroll Lynch (Twisty), Matt Fraser (Paul the Illustrated Seal), Erika Ervin (Amazon Eve), Rose Siggins (Legless Suzi), Jyoti Agme (Ma Patite), and Naomi Grossman (Pepper).
The iconic voice of Chucky from Child's Play, Brad Dourif, will be appearing with Alex Vincent who played Andy. On Friday fans will be able to purchase a special photo op with Vincent, Dourif, and the original Chucky Doll.
Classic horror fans will also be pleased to hear that Tom Skerrrit and Veronica Cartwright from the horror classic "Alien" will be appearing as well as Ernie Hudson of "Ghostbusters" fame. Camille Keaton of the vigilante horror film classic "I Spit on Your Grave" and Mike Christopher of "Dawn of the Dead" are scheduled to appear as well.
If you are a fan of special effects makeup and artistry, Mayhem should be definitely on your radar. Special Effects legend and KNB Effects makeup company founder Robert Kurtzman will be signing autographs over the weekend. Face/off judge Glenn Hetrick as well as contestants Adam Milicevic, David O'Connell, Nix Herrera, Eric Garcia and Emily Serpico will be appearing for fans as well.
If you prefer to watch your horror films with your little minions never fear, Mayhem has plenty of special guests for your children, which feels odd while talking about a horror event. Lana Parilla, the evil queen from "Once Upon A Time" will be meeting fans and signing autographs as well as Kathy Najimy from Hocus Pocus. Little boys and ghouls will also be happy to hear that Debi Derryberry the voice of some of their favorite "Monster High" characters is also slated to attend.
While full of celebrities,  Mayhem also gives fan a special "behind the screams" look into the haunt industry, with the partnership of Transworld, the largest group of haunt trade shows in the nation. Mayhem guests can check out different haunt innovations, go to panels about major haunt attractions (including major panels from Halloween Horror Nights and Howl O Scream), and participate in make and take demonstrations. There's even a bus tour on Friday and Saturday nights that will take guests into some of the biggest local haunted attractions, such as Howl O Scream, The Shallow Grave, and Legends:A Haunting at Old Town. Those on the tour can also be among the first to get a peek at the all new interactive experience, The Republic. The new game mixes horror elements with escape room puzzles, and even live actors, and costumed characters.
This Mayhem is a fantastic pairing of Freaks, celebs, and treats for any horror geek. This weekend long horror party with its celebrity guests, haunts, crazy vendor room, tattoo room, and sundown to sunrise pool parties has something for everyone.
Stay tuned as we'll be bringing you tons of updates from Mayhem this weekend, and be sure to get social with us on Facebook and follow along with us on Twitter @BehindThrills for the latest updates!
For more information about Spooky Empire's Mayhem, including tickets, visit the official website by clicking here!