¡Ay, caramba! The Simpsons have an all new place to call home at Universal Studios Hollywood! Springfield has officially opened at the park, marking the first in three major new additions at Universal Studios Hollywood this year. The park rolled out the yellow carpet this week and welcomed stars from the show including the voices of Lisa and Bart for a huge grand opening celebration, plus an explosive ceremony.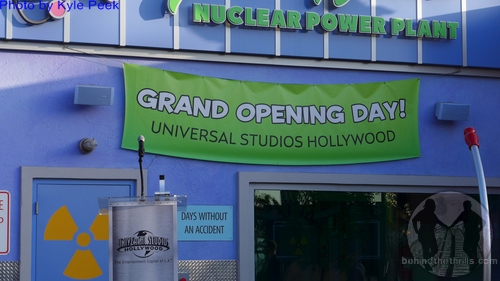 Video-Watch the Grand Opening Celebration of Springfield at Universal Studios Hollywood!

The event continued through the night inviting special guests to eat, drink and bask in the glory that is Springfield including The Simpson's Ride, The Krustyland Midway Games, and Springfield itself. It also showed off the lands remarkable ability to be a stand alone destination. With many hours spent inside Moe's, Krusty Burger, Duff Brewery, there was still much we had yet to do.
Of course, the ground work was laid with Springfield at Universal Studios Florida. While the two areas have some similarities, including many food
& beverage choices, the two areas are completely different, simply because of park layout differences.
"This is a must-see experience forSimpsons fans all over the world," said Mark Woodbury, President of Universal Creative. "In spectacular fashion, guests can now enter an animated world that they've only seen on television – and we're really excited to bring that world to life."

"I might actually had been excited about the new Simpsons attractions even if we hadn't put our blood into making it great with our fragile egos waiting for the outcome," said James L. Brooks, Executive Producer, The Simpsons.

"The 'Springfield' launch at Universal Orlando exceeded all of our expectations with Simpsons fans young and old traveling from around the globe to experience the immersive land. We're so excited to now bring the world of 'Springfield' to Universal Studios Hollywood," said Jeffrey Godsick, President, Twentieth Century Fox Consumer Products.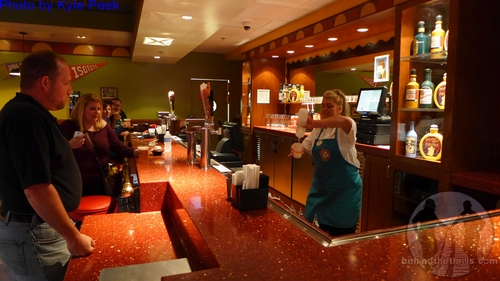 Included in the new land are also many Three-Dimensional characters that guests can take pictures with including the 7 Duffs, Barney, Chief Wiggum and much more.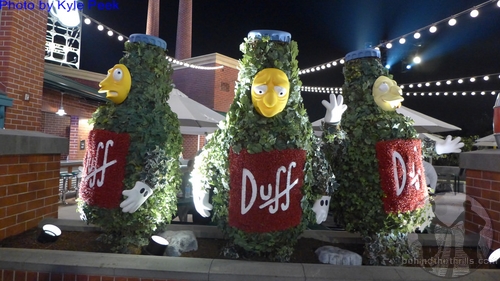 One of the many unique aspects of Springfield is the Aztec Theater with an ever changing marquee spoofing recent movie releases and references back to old Simpsons episodes and characters. The entire area literally comes to life with these little details, and really makes for an immersive experience. It's something that the park has been excelling at with the last few projects.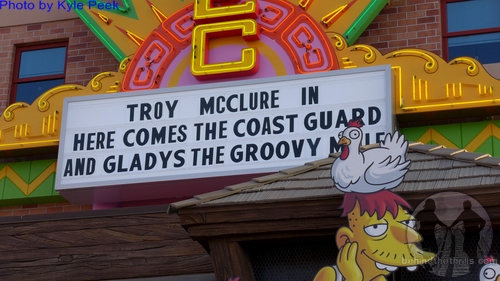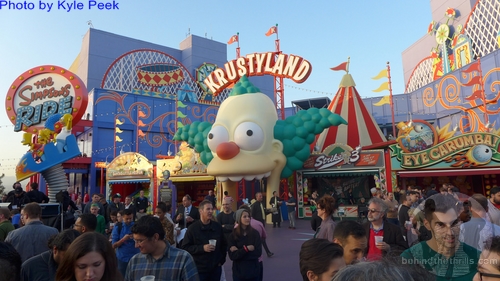 Video-Take a walk through Springfield at Universal Studios Hollywood!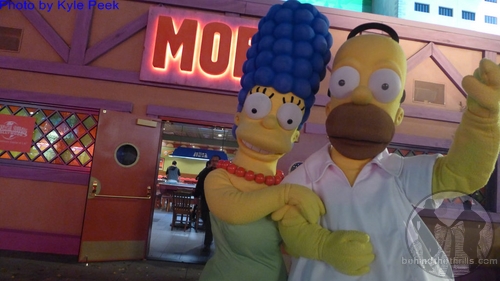 One of our favorite features of Springfield is the inclusion of the Springfield Nuclear Power Plant, a focal point in the land. It features a wonderful effect every 20-30 minutes of a nuclear meltdown resulting in the loss of power to Springfield, something only Universal Creative could bring to life. It's truly wonderful.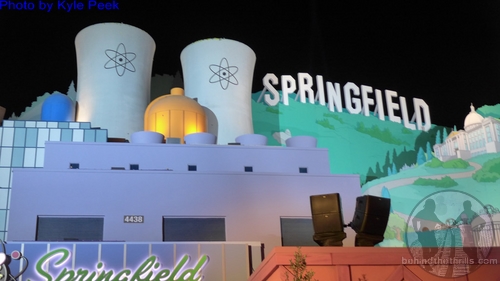 Slideshow-Check out even more pictures from Springfield at Universal Studios Hollywood!

Springfield is an awesome addition to a Universal Studios park that is nearly unrecognizable at this point in the 5 year evolution plan, and it's only scratching the surface. In just a month the brand new mega-addition to the Studio Tour – Fast and Furious: Supercharged will open along with the night time studio tour. Then in 2016 we have a brand new dining/entertainment facility at the front of the park, and of course The Wizarding World of Harry Potter opens up. We cannot wait to see this park grow through the year.
Stay tuned for more from Universal Studios Hollywood, and be sure to get social with us on Facebook, and follow along with us on Twitter @BehindThrills for the latest updates!
For more information about Universal Studios Hollywood, including tickets, visit the official website by clicking here!