Something big is on the horizon.  It's quite possibly the eighth wonder of the world, and it's taking up residence right next to an area where dinosaurs rule the earth. We thought they would never announce it, but it's finally looking like Universal is getting bread to announce the return of Kong to the resort.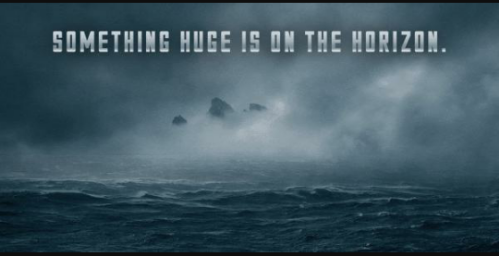 Earlier this year, it was confirmed during an earnings call that Kong would return to Universal Orlando resort. The giant ape helped to put the park on the map when it first opened, but later closed to make room for newer, faster attractions.
Now an all new era is coming,  and it's taking residence at Islands of Adventure,  right next to Jurassic Park…or at least we think it is.
The details of Kong's return have been about as shrouded in mystery as the island that hides him. Today,  however, via the official Universal Orlando Twitter page, the first signs of the all new attraction has been revealed,  and it's a mysterious island covered in mist and fog…better known as Skull Island.
There's no word on just when the ride will open, but with the teasing starting up, it's a sure bet that an announcement is pretty close.
Rumors suggest that the ride will incorporate some of the ride from Universal Studios Hollywood,  where King Kong 360 is part of the tram tour. Orlando has no tram tour, so it presents a very unique challenge for the park to bring Kong back. It's going to be a lot of fun to see how the park does it.
So what does Universal Studios Hollywood's version look like? Get a glimpse!
Video-King Kong 360 at Universal Studios Hollywood
Obviously Universal can't do it the exact same way, but it's likely that the new attraction (if it is Kong) will use the same film, and some of the same motion. There's a good chance of animatronics added to it as well.
Update!
Looks like we have an official announcement planned for Wednesday at 11 a.m.
Something HUGE is on the horizon… join us tomorrow @ 11AM EDT.

Posted by Universal Orlando Resort on Tuesday, 5 May 2015
Stay tuned for more from Universal Orlando, and be sure to get social with us on Facebook, and follow along with us on Twitter @BehindThrills for the latest updates!
For more information about Universal Orlando, including tickets, visit the official website by clicking here!