American Ninja Warrior is the hit show that puts guests on a larger than life obstacle course. It's also been impossible for contestants to conquer the entire thing in the six seasons that the show has been airing. Will that change during season seven? We were at Universal Studios Florida for the filming of an episode of American Ninja Warrior, which airs Monday night, June 22nd on NBC. It honestly looks like the impossible will stay that way, as we even tried our hand at conquering the obstacles.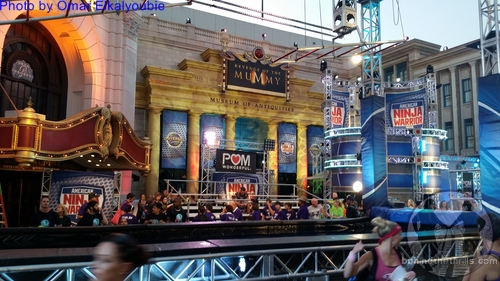 American Ninja Warrior is celebrating seven seasons in a big way, and will be airing on NBC Monday night, June 22nd from Universal Studios Florida. The show puts contestants through a rigorous obstacle course the tests skill, stamina, and strength. The winner will go home with a grand prize of $1 million dollars.
The show was taped back in May, and we were on hand to chat with Matt Iseman about the course, the show, and to test our skills as American Ninja Warriors…Needless to say, we'll stick to writing and riding coasters.
Video-Watch as we tackle the American Ninja Warrior Obstacle Course..and fail!

Yes, bouncing from wall to wall looks amazingly cool in the movies, but it's impossibly hard, especially when you've never done it before. However, there were some contestants that made it look all too easy.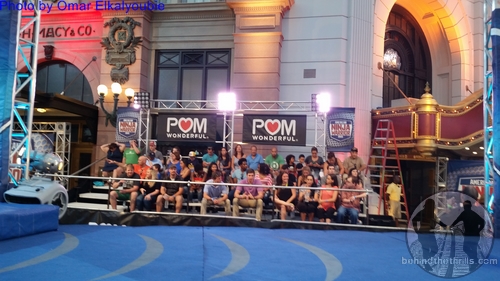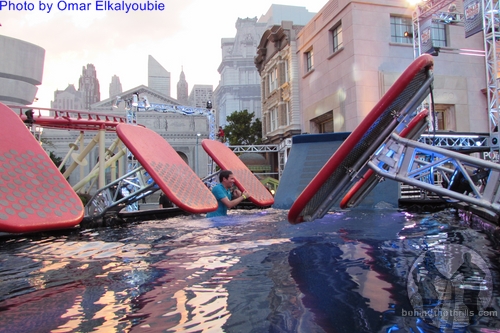 Matt Iseman returns as host, along with former NFL player Akbar for the seventh season, which hopes to crown a winner this year. While producers insist that the obstacle course isn't impossible, it has yet to be cracked during the show'show's six previous seasons.
The prize for the show has jumped from $250,000 all the way to a million dollars in the past six seasons, all in hopes of keeping those Ninja Warriors trying. While fans of the show have seen small pieces of the obstacle course, they have yet to see it in it's entirety.
Slideshow-Check out more pictures from American Ninja Warrior

American Ninja Warrior is the latest production to use Universal Studios Florida as a backdrop. The theme park has been used extensively over the past few years to film everything from TV shows like The Today Show, to movies. Recently production wrapped on the Brazilian film S.O.S.: Mulheres ao Mar 2. The next film that fans will be able to see , which was also filmed at Universal Orlando will be Sharknado 3: Oh Hell No!
Stay tuned for more from Universal Orlando, and be sure to get social with us on Facebook and follow along with us on Twitter @BehindThrills for the latest updates!
For more information about Universal Orlando, including tickets, visit the official website by clicking here!