We make no secret about it, we love Universal Orlando. It was the perfect place for our family to spend many hours together, and to give the kids a different experience than what I personally had at Walt Disney World growing up. In fact, because of Universal Orlando, many tourists and families are able to experience many things that they wouldn't have if the park had never opened the gates on June 7th, 1990. From a small little theme park, with rides that didn't work properly, to a full blown vacation destination, Universal Orlando has changed in the 25 years, both as theme park and a resort. It's weathered through rough times, and prospered during good times, and is still changing the face of tourism, not only in Central Florida, but also the world.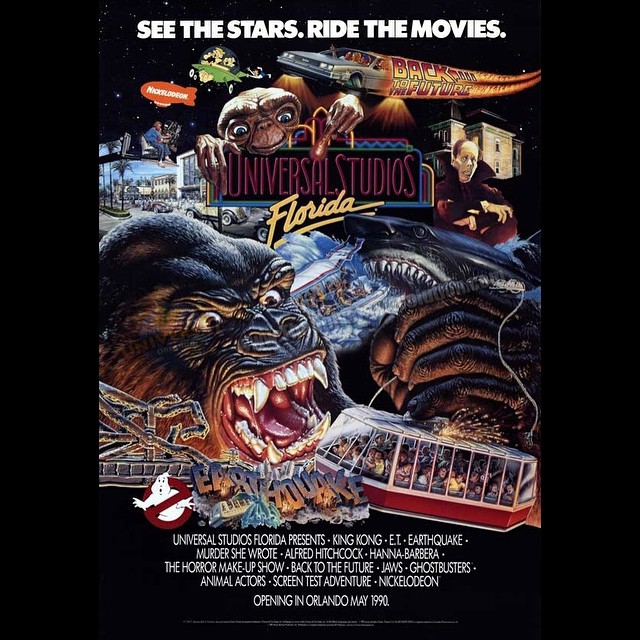 Universal Orlando started off in 1990 with just one park. The park actually started at Universal Studios Hollywood. Back before it was a massive theme park, it was simply a studio. Guests could come onto the studio lot, and take a tour through scenes from famous movies, and also see some of the biggest moments in movie history recreated. This included Earthquake, JAWS and King Kong. It was because of the success of the Studio Tour that Universal started looking at the East Coast, and building a theme park all their own. The park wouldn't have the benefit of a tram tour, so they looked at re-creating the experience in unique, stand alone attractions that would be larger versions of the attractions that were represented in Hollywood. Many of those attractions would become larger, and more popular than the tour versions in Hollywood as well.
The park opened in 1990, at a cost of $250 million dollars. It had about ten attractions, and shows when it first opened, and on the very first day, the glitches of huge rides caused major lines, and even had some rides closed for the duration of the day, prompting management to give out tickets to come back another day.
In the coming years, Universal would not only get the theme park business straight, but they would start doing it right. They added attractions that would change the industry, and keep other theme parks in the area on their toes. They kept to the themeing, and actually immersed guests into a movie studio experience. Rides like JAWS and ET that either weren't working the way they were designed, or just weren't up to the high standards at Universal were replaced, and updated with newer, better working versions.
In 1996, the park decided that if they were going to compete with Disney, which had just opened their fourth park, Animal Kingdom, they would have to look beyond just adding a new ride. Plans began to restructure the entire area, and build it from a one day park, into a full blown multi-day resort. Universal Escape was born.
In 1999, the area that were parking lots for Universal Studios Florida became Islands of Adventure and CityWalk. The area to the north and east of the park had the first of three new hotels built on it, Loews Portofino Bay. Over the next few years, Universal would add two more hotels, Loews Hard Rock Hotel, and Loews Royal Pacific. The expansion helped to buffer the blow dealt from the 9/11 terrorist attacks, which destroyed a lot of tourism in the area at the time.
In 2007, Universal Orlando announced that they would be adding to Islands of Adventure with an ambitious new themed land, The Wizarding World of Harry Potter. When the park opened in 2010, the area blew away guests and set new standards in the theme park industry. In 2014, the resort did it again, by expanding Universal Studios Florida with a huge new Wizarding World of Harry Potter section of their own, based on Diagon Alley.
The resort continues to grow exponentially, with huge new rides every year, and a new hotel coming in 2016. Loews Hotels will operate five on site hotels on property when Sapphire Falls opens in 2016. Also in 2016, Universal Orlando will open the massive new version of original Universal Studios Florida attraction, King Kong. In 2017, the resort will open up it's 2nd waterpark, and first original waterpark, Volcano Bay.
The most interesting thing that people often bring up is the fact that Universal has not stayed the same. In fact one of the only original attractions that was there when the park was open, is ET. The rest of the park has been changed and reformed over the past 25 years. The explanation is really simple and amazing.
A movie studio is always changing, with new films always happening. The experience at Universal Studios Florida is truly like a movie studio, as the park is constantly changing with new experiences and attractions, and movies.
While the park has definitely changed over the past few years, who's to say what the future may hold. Honestly, with the current line up, it's hard to imagine what could be better. Of course, times always change, and movies always come and go. In the next 25 years, who's to say exactly what Universal Studios Florida will look like.
Do you have a great picture of the last 25 years at Universal Orlando? We want to see it! Send it to us at Staff@Behindthethrills.com and we'll add it to our huge Universal Orlando Yearbook!
Stay tuned as we continue our four part look at Universal Orlando in honor of their 25th anniversary!
Be sure to get social with us on Facbeook, and follow along with us on Twitter @BehindThrills for the latest updates!
For more information about Universal Studios Florida, including tickets, visit the official website by clicking here!