When Disney purchased Lucasfilm from George Lucas in 2012, the majority of the public automatically thought that the company only bought Star Wars, and Indiana Jones. Many overlooked the fact that Lucasfilm was the owner of several small companies, including a small film effects company called Industrial Light and Magic(ILM). ILM has created some of the most memorable scenes in movies today, but their latest venture is looking beyond just creating movie effects, and instead, looking at putting audiences into their favorite films. Yes, virtual reality, but it's more reality based than ever before, and it's all becoming possible thanks to the newest Lucasfilm creation-ILMxLAB.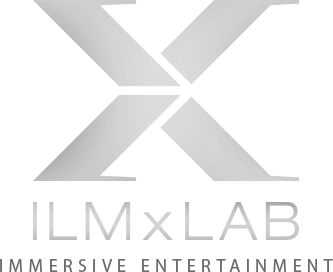 ILMxLAB is creating a new way for audiences to actually become immersed in their stories. Instead of watching a movie, or interacting the way you might with a theme park attraction, the goal of the new venture is to create stories that the audience can PHYSICALLY be part of.
Industrial Light and Magic, Skywalker Sound and Lucasfilm's story group are working together to bring some of the most immersive stories, and storytelling to life involving…Star Wars. The Galaxy Far Far Away is the target for the first experience, and apparently it will be unveiled sometime at the end of this year.

"The combination of ILM, Skywalker Sound and Lucasfilm's story group is unique and that creative collaboration will lead to captivating immersive experiences in the Star Wars universe and beyond." says Lucasfilm Executive Vice President and ILM President Lynwen Brennan "ILMxLAB brings together an incredible group of creatives and technologists together to push the boundaries and explore new ways to tell stories. We have a long history of collaborating with the most visionary filmmakers and storytellers and we look forward to continuing these partnerships in this exciting space."

"The people who work here have been investing in achieving the unachievable for more than 40 years. Creative storytelling was something that George Lucas instilled in each of the companies from their earliest days and out of that came the incredible innovation that continues to this day." Said Lucasfilm President Kathleen Kennedy "We are currently exploring the fictional universes of Star Wars, and I think a lot of people would like to be immersed in them. The challenge of ILMxLAB will be to find out what storytelling looks like in this new space."

"Cinema is a master storyteller's art form." added Creative Director, ILMxLAB John Gaeta "Until recently, a "4th wall" has contained this form. Soon, however, we will break through this 4th wall and cinema will become a portal leading to new and immersive platforms for expression. ILMxLAB is a platform for this expansion. We want you to step inside our stories."
The fourth wall also exists inside theme park attractions. For years, attractions have tried to break that fourth wall, and make the guests part of the story. Certain interactive attractions, such as shooter games have cracked the glass on that fourth wall, but it's still a barrier that keeps feeling like they are just on a ride, instead of in an experience. Theme parks like Disney, and Universal have created rich worlds with layers of attractions, and experiences. Guests no longer just ride an attraction, they have a full experience that starts the second they walk into a "realm".
Universal's Wizarding World of Harry Potter starts when you cross over the border into the world, and everything is detailed and themed. Guests can get a specific drink that can only be found in this world, and even go to the bathroom to hear a character from the film giggling and making comments. The ride is just one part of the overall experience.
Still, while you may step into a world, it does end, and it has limits. What if there are no limits, and the world is seemingly endless? That is what Disney appears to be doing with ILMxLAB. They are inviting creators and storytellers to play in their world. A world where guests can interact with droids, fly the Millennium Falcon, and even possibly have a lightsaber battle is all within reach. Yes, it's a virtual reality system, but unlike the video game systems, the world is photo realistic.  Knowing Disney and the geniuses behind ILM, the effects will feel all too real.
There have been no details announced, but earlier this year, Disney CEO Bob Iger did say that they would make an announcement about their new Star Wars additions to Disney theme parks, by the end of this year. ILMxLAB will also make an announcement about their first products by the end of this year. That product will be a Star Wars based project.  Coincidence?
So, will Disney be announcing a virtual world in which we, as guests, can interact in the actual Star Wars Universe? It certainly appears so.
ILM has been changing the motion picture industry for 40 years, now under Disney it looks like they are taking immersive entertainment out of theaters and into theme parks, and eventually into homes. It's going to be one amazing ride.
Stay tuned for more from Lucasfilm and Disney, and be sure to get social with us on Facebook, and follow along with us on Twitter @BehindThrills for the latest updates.