Skull Island: Reign of Kong is a pretty big ride…both figuratively and literally. It was an original attraction at Universal Studios Florida when they opened 25 years ago, and the character is one of the most recognizable and iconic characters from the silver screen of all time. So, the fact that ole banana breath is coming full circle at Universal Orlando is kind of a big deal. Universal Creative Executive Producer, Mike West (who is pretty towering himself) recently sat down with MovieFone for an exclusive look(click here) at some of the details about the all new ride, which won't hit the park until next summer.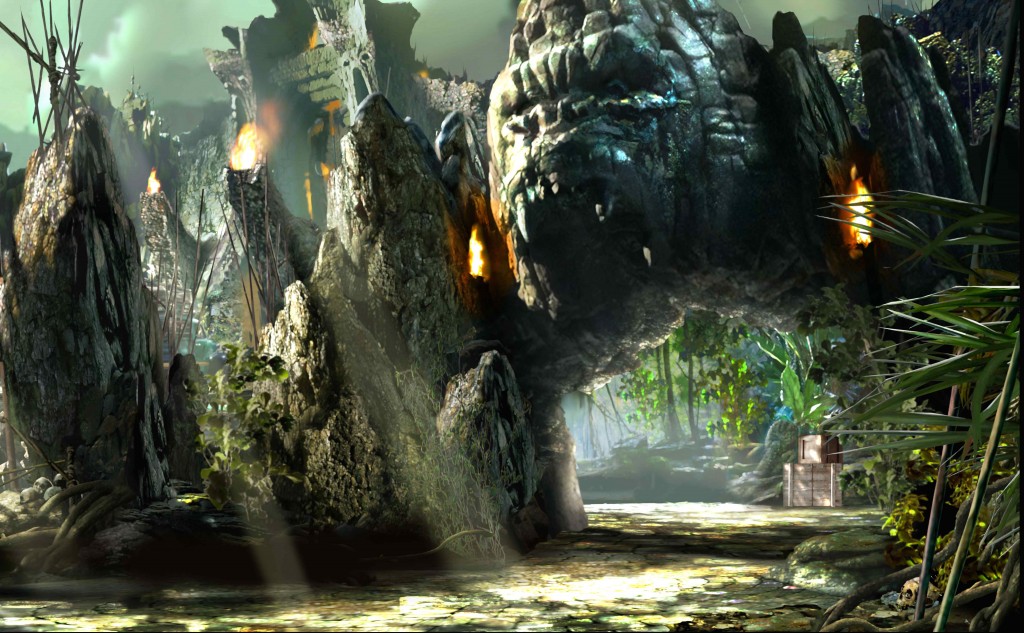 The ride has been under construction since 2014, but from the details the Mike West are giving, it looks like it will be worth it. The new attraction will be one of the longest and most intense attractions at Universal Orlando. It will take Kong out of the realm of the movies, and bring him onto Skull Island, his home turf. While it may (or may not) use footage from King Kong 360 at Universal Studios Hollywood, the ride will take guests on a completely different journey. It's no relation to the 2005 Peter Jackson film, and is in no way a prequel to the 2017 prequel. Skull Island is a self contained, all new monster…and it's going to be a monster
According to Moviefone and Mike West, the ride will first send guests through a dense jungle, that gives way to ancient ruins, which will be filled with warnings and hostile natives all giving warnings and murmurs about ancient and colossal beasts on the island. And that's just the queue.
Guests will board the jeeps seen in the original concept art, and will know from the very beginning that things will be wrong. There is no "things go horribly wrong", it's all just different levels of "horribly wrong" from the get go.
As for the story itself, the main aspect of it will have guests deep inside Skull Island, on an expedition to catalog new species of creatures, which includes bugs, dinosaurs and who knows what else. As the ride goes deeper and deeper into the Island, the creatures get bigger and bigger, until we are face to face with Kong.
Click here to read the full story.
For those worried that this would be a carbon copy of King Kong 360 at Universal Studios Hollywood, it looks like some of those concerns can be put to rest, as the story is definitely expanded from that experience. Rumors suggest that there will also be animatronics in the attraction, and that Kong will be seen a few times. There will also be massive set pieces that will play a part in the ride itself, so don't expect to see just screens.
2016 is shaping up to be a huge year at Universal Orlando, with not only Reign of Kong roaring to life, but also the all new Sapphire Falls Resort opening as well.
Stay tuned for more from Universal Orlando, and be sure to get social with us on Facebook, and follow along with us on Twitter @BehindThrills for the latest updates!
For more information about Universal Orlando, including tickets, visit the official website by clicking here!