The Themed Entertainment Association, along with AECOM has released their annual theme park attendance report for 2014. The list is considered the definitive list in the theme park industry for attendance, worldwide, and is used as a gauge to measure theme park performances, and audience reactions. This year the entire industry was once again up, by about 4% overall, with individual parks showing great progress over last year. What does this all mean? Who did the best? Who did the worst? It's all in this year's TEA Index.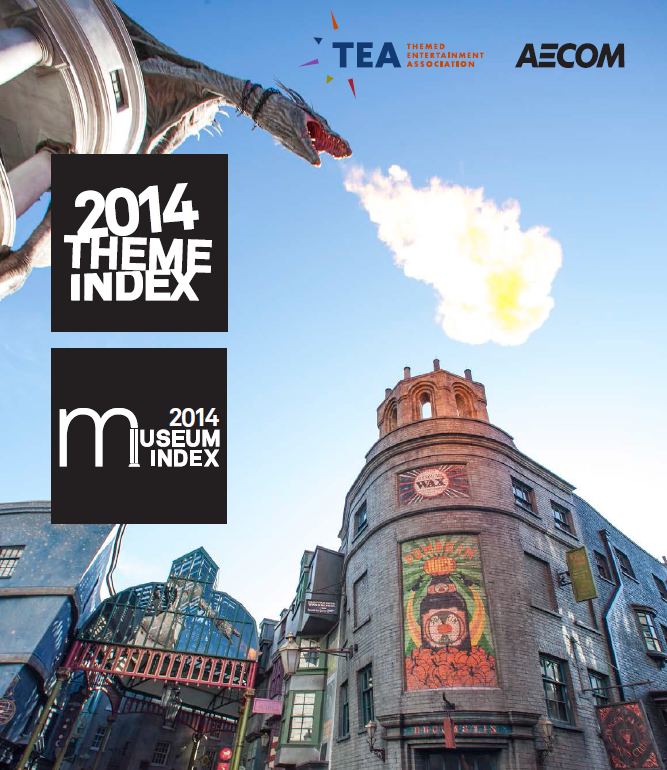 Theme parks are still very big, with growth happening at parks all over the world. Overall, the entire industry was up 4% in 2014, vs. 2013. While it's not as big as the 5.4% increase in 2013, it's still a huge indication that families and individuals are still looking at theme park destinations for vacations, getaways, and just to have fun. More and more, theme parks are shelling out big bucks for huge attractions, and the payoff is huge, as fans all over the world are flocking to theme parks and museums.
Increases
The biggest increase comes from Asia, with Chimelong and Songcheng Worldwide posting MASSIVE increases of 59.9% and 103.5% respectively. While their numbers come nowhere near the massive amounts that Disney and Universal post, it's still a huge gain, and puts them in the top ten companies in the world. These two companies are also new to the worldwide top ten.
Universal Parks and Resorts also had huge increases as the entire company went up 10.4% overall. That gives them the best performance on groups returning to the top ten. Universal Studios Florida, Hollywood and Universal Studios Japan posted increases over 10%, which was enough to make Universal Studios Japan the top performing Universal park in the company! That's a huge increase over last year, where Orlando reigned supreme. Merlin Entertainment increased 5%, while Walt Disney Company post a 1.4% increase.
Losses
Surprisingly, the biggest loss in the top ten, as a company was Parques Reunidos, which was down 14.3%. Second, not surprisingly was SeaWorld Parks and Resorts, down 4.3%, followed by Six Flags with 1.3%.
Top 25 US Parks
When it comes to theme parks in the United States, no one touches the Magic Kingdom. The park continued to dominate with over 19 million visitors. Other huge parks include Universal, and while SeaWorld Orlando attendance did fall, it wasn't bad enough to keep them out of the top 10.
Here's the full top
Waterparks
Waterparks also had a massive increase in the United States, with of course, Disney coming out on top for their two waterparks. SeaWorld's Aquatica, however, proved to be a strong brand, as the park in Orlando increased due to their huge hit, Ihu's Breakaway Falls.
Here's the full list:
Worldwide
Disney continues to dominate the top ten all over the world, but while the House of Mouse is staying strong, other parks are growing fast, and showing larger increases. While attendance numbers are still very big, the chain can't rest on it's laurels, as parks in Asia, and huge chains like Universal continue to add groundbreaking attractions and huge Intellectual Properties that are making crowds flock. Of course, Disney still has Frozen which continues to be a money maker.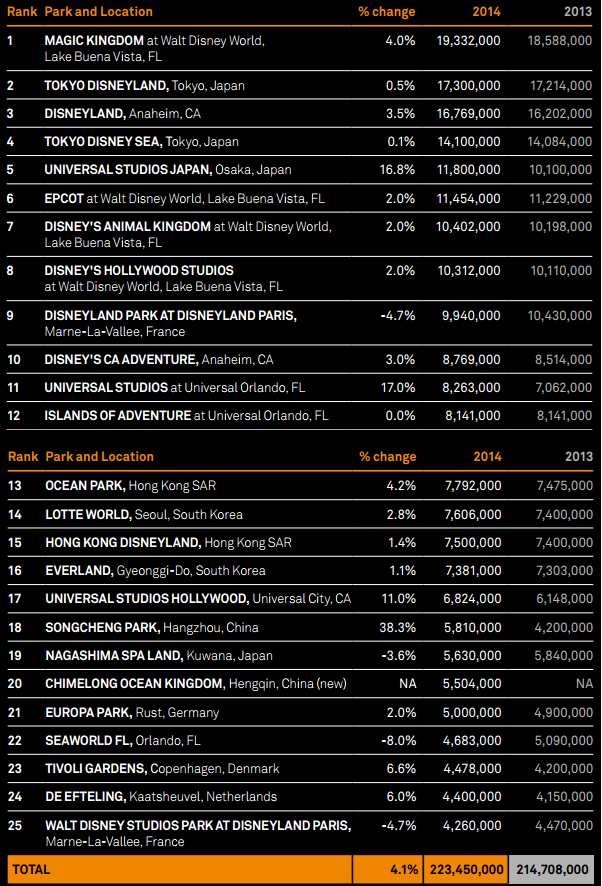 Waterparks also showed a huge change over last year, with many new players emerging in Dubai and Asia alone. Chimelong waterpark has overthrown Disney's Typhoon Lagoon as the top waterpark destination, but not by much, showing that Disney desperately needs to do an update to it's oldest waterpark, if only to take over the top spot once again.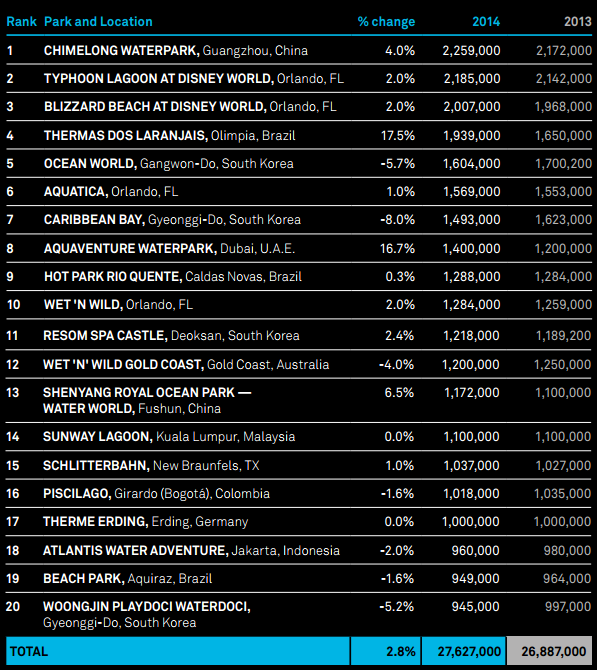 The biggest story out of all of it, is that Universal is slowly catching Disney with huge properties like Harry Potter and Transformers, and Despicable Me. That trend doesn't look to slow down any either, as the parks continue to add new properties on an annual basis. This year alone, Universal will add Fast&Furious at Universal Hollywood, along with the Simpsons. Florida will add Reign of Kong next year, and a massive state of the art waterpark the following year. Disney will have Frozen to keep them going strong, but you have to wonder how long until people Let it Go.
Six Flags is starting to show fatigue, as the company overall is starting to once again slip. Will they continue their commitment to a new attraction in every park? And will they continue the trend of big coasters, or will new rides like Justice League be the way the company goes, aiming more for family entertainment.
Then there's SeaWorld. Apparently negative publicity does have backlash afterall. The company lost 8%, with only the waterparks and Busch Gardens Tampa showing any growth. That should change this year, as the park continues on a massive restructuring strategy. While the chain isn't abandoning the conservation message, they are instead going with a stronger message about fun, while scaling back on the "we save animals" front. Yes, they continue to save animals, but they are a theme park, not an animal rescue shelter, and their new campaign is starting to reflect that. The new CEO also promises big changes, and is so far delivering them in Orlando with a massive new coaster at both SeaWorld Orlando and Busch Gardens Tampa. The underdogs appear to be San Diego and San Antonio, but that will soon change as rumors are starting to surface for big changes on the horizon, especially in San Antonio.
So, which parks will you be attending this year?
Stay tuned for more theme park fun, and be sure to get social with us on Facebook, and follow along with us on Twitter @BehindThrills for the latest updates!
For more information about TEA/AECOM and to see the full report, visit the official website by clicking here!