Immersive entertainment is an art form that is fairly new to the world. While theme parks definitely put you into a world, it's not exactly Immersive. You only walk in that world for a short time, as an outsider, seeing how beings like dinosaurs, superheroes, and wizards live. Haunted attractions have been submersing their guests into worlds and realms for some time now, but it's still not as deep as you can go. What if you had an experience that was stepping out of your world, and into an all new society where you actually play a role? That's the immersive, and unique idea behind the all new interactive theater game, The Republic.
Have you ever gone to work, or school and suddenly there is a new thing you must know and adapt to. Well imagine if there was a whole dystopian world modeled after Plato's Republic but there are no gods only mortals. Then you are thrown to the proverbial wolves and are tasked to make the right decisions and adapt to let the right people go into power. This is the basis for "The Republic", the all new game in the heart of Orlando that mixes the thinking challenge and interactivity of an escape room, the make up and creepy level of a haunted attraction, and the drama of a theme park fansite forum. The Republic is all about submerging you into a world where there are no right or wrong decisions, until you side with the right or wrong person. And you never know who the right, or wrong person will be.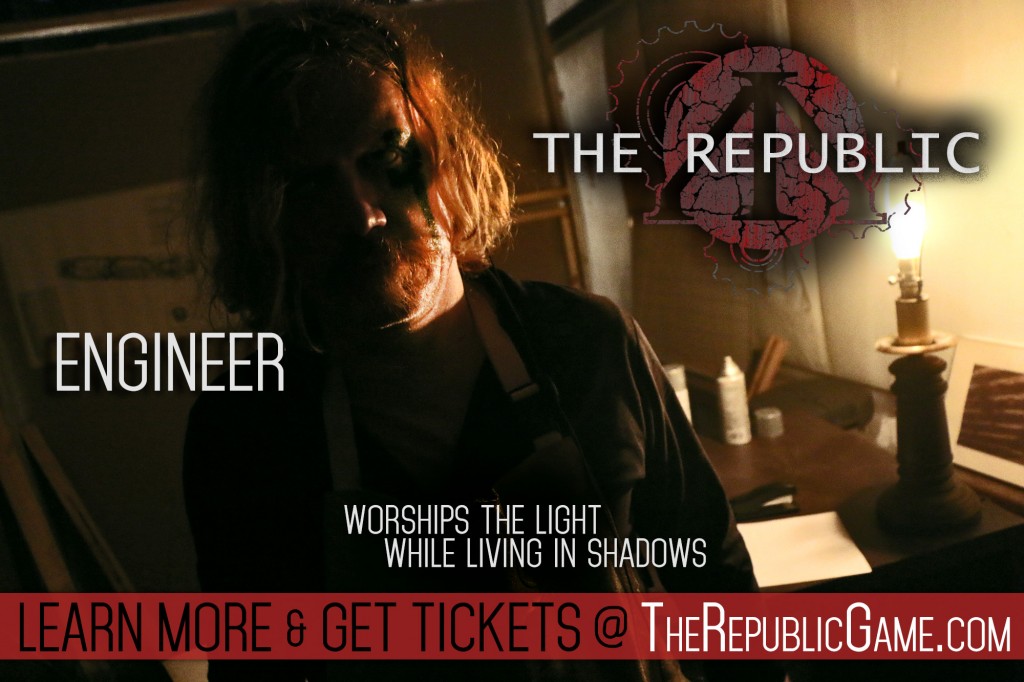 There is an overarching story in the whole experience, but each guest has a distinct role, and as a newly recruited member of the republic, you will have a personal experience in the ever changing show. For my experience, I was put by myself with a major character. While you interact with many different characters in order to reach the endgame, I spent the first twenty minutes of the show literally one on one with one character. Although I came to the republic with a friend, I only saw him twice during the show, and really he wasn't missed. The Republic takes everyone through a series of tasks, and pairs you off with different groups of people. The funny thing is, that 20 minutes into The Republic, everyone had become their roles. It's a new level of immersive entertainment that you really can't get at a theme park, or haunted attraction, or even escape room.
At those attractions, you enter the story, the story happens around you and you go about your day. You can choose to enter or leave those stories anytime you wish. Once your'e in the Republic, however, you become the story, or at least you become a part of the story.

Because of your small part in the larger story, the premise of the show is harder to grasp. You only get a sliver of the story based on the role that you are assigned, and the story changes based on the ideas and decisions of you and the other guests. While the actors are definitely part of the story, they only serve as a catalyst, giving you a base to work off of.  You yourself control the fate of the show, and the direction that the story takes.  It would take multiple visits to The Republic to get the entire story, but even then, there's no guarantee, because it could change at any given point in time. It's like a twisted, grown up version of a "Choose Your Own Adventure" book, only instead of flipping through the pages, you physically change the story.

Each showing of The Republic lasts about 90 minutes and has room for thirty guests. If you go with a group, be prepared to be split up, as you are assigned your roles. In fact, you might not bump into everyone in your party, because it takes place in a 18,000 foot warehouse. In that warehouse are more than 25 fully immersive sets, and experiences. The surroundings are completely interactive, and will change based on your decisions…so it also throws in a bit of a maze element in as well. The website states that the "improvisational actors will get up close and hands on", which means that yes, you will be touched.  The shows are meant for those 18 and up, and before going in you have to sign a waiver. Again, you will be spoken to, interacted with, touched and possibly kidnapped. 
Overall the story and elements are completely unique, from the make up and actors, to even the musical score which was created specifically for The Republic.  There are flaws with the game, but those really depend on how "into it" you are. Those with overactive imaginations, and a flair for the dramatic will flock to it, where some might not. The endings, the experience, and the level of how much you enjoy it, really depends on how much you're willing to let go, and participate.
Are you ready for The Republic?
The Republic has five performances weekly through July 25, one on Thursdays, two on Fridays, and two on Saturdays.
Stay tuned for more fun, and be sure to get social with us on Facebook, and follow along with us on Twitter @BehindThrills for the latest updates!
For more information about The Republic, including tickets, visit the official website by clicking here!
This review was submitted by YouTube sensation, Yukendoit. He's not really sensational, but he is on YouTube. You can catch more of his video adventures by visiting, and subscribing to his YoutTube Channel.