Saturday a worker and a rider were injured on Flight Deck at California's Great America.  The worker was struck in the head trying to recover a cell phone that had fallen, and the rider reported hand injuries. The incident comes at a time when the focus on roller coaster safety is coming into question after a tragic incident in the UK involving The Smiler coaster.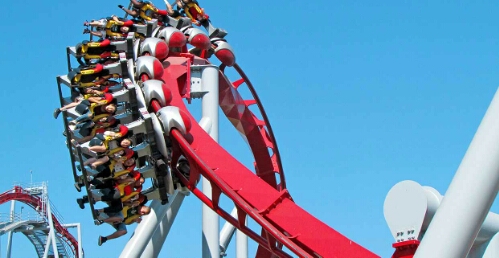 Flight Deck, an inverted coaster at the California park, takes riders on multiple inversions and high speeds for a breathtaking thrill ride. The incident occurred when the train was returning to the station. A maintenance worker was retrieving a riders cell phone, when he was struck in the head by the first riders in the coaster.
The worker was transported to the hospital with serious injuries,  but is expected to recover.
A guest also complained of a hand injury, but officials were not sure if the two incidents were related. The guest was taken to the hospital for treatment.
A similar incident in 2008 at Six Flags Over Georgia occurred when a guest jumped a fence to retrieve a hat. The coaster was going full speed, and the guest lost his head as the coaster made impact.
While this incident was not as serious,  it's still a valuable reminder that people need to be safe on a ride, but also around the ride.
The ride has been shut down until officials can determine a cause, but a ride malfunction does not look to be the blame in this case.
The incident comes at a bad time for the industry as a whole, after a coaster at Alton Towers in the UK did malfunction, and caused a horrific accident in which four riders were seriously injured, and lost limbs.
Despite these incidents,  which are rare, coasters are completely safe, and usually incidents occur when safety measurements are ignored, usually by guests. Rare cases where the ride malfunctions do occur, but generally it's human error when a coaster incident happens. Statistically speaking, riders on a coaster have a better chance of getting into a car accident, bitten by a shark and struck by lightning than getting injured on a coaster.
Stay tuned for more from this story. Be sure to get social with us on Facebook and follow along with us on Twitter @BehindThrills for the latest updates!