Universal Orlando is hitting things hard and steady, as work continues on several major projects throughout the resort. With Reign of Kong, and Sapphire Falls scheduled to open next year, work is continuing almost around the clock. Plus there's tons of things happening in CityWalk as the resort is moving along with the NBC Sports Bar&Grill. Then for all the horror fans, there's Halloween Horror Nights, which is going to be bigger than ever this year. So much happening at Universal Orlando, all in preparation for another huge year!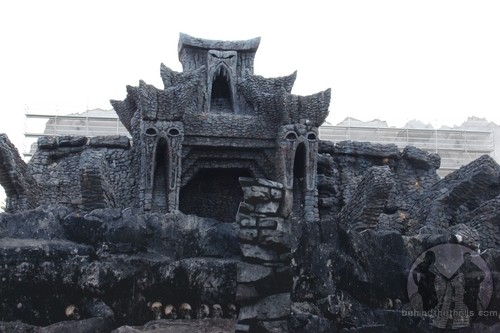 Reign of Kong is progressing with amazing detail. The all new attraction will mix live action sets with 3D screens and a unique experience. The new attraction will open in Summer of 2016, but the work still manages to progress, with tons of new rock work being added almost daily. The almost skull like faces look as if they will possible pour water. It's also possible that we could even see something else major happening around those areas.
Video-Check out all the construction at Universal Orlando

Construction isn't the only thing happening. Universal has several huge films, including one of the biggest of all times,Jurassic World.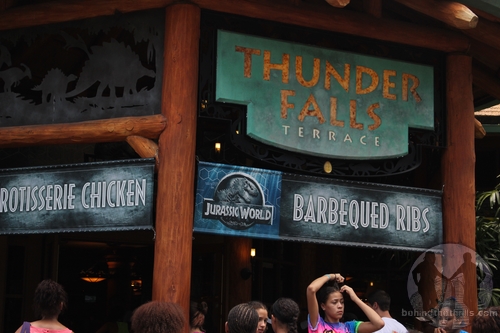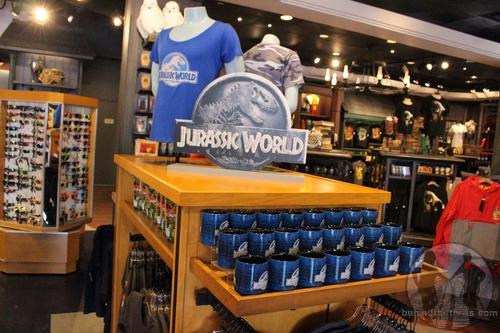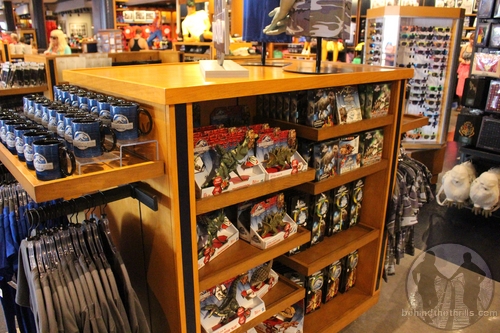 At the Jurassic Park section of the park, Jurassic World has taken over. Thunder Falls Terrace is now labeled as "Jurassic World" and appropriately is one of the most popular eateries in the park. Meanwhile, in just about every major gift shop, guests can get Jurassic World toys, shirts and mugs. The film has grossed over a billion dollars worldwide, with very little signs of stopping. Universal has a monster on their hands, and it's likely you'll see that crossed over into the theme parks very soon.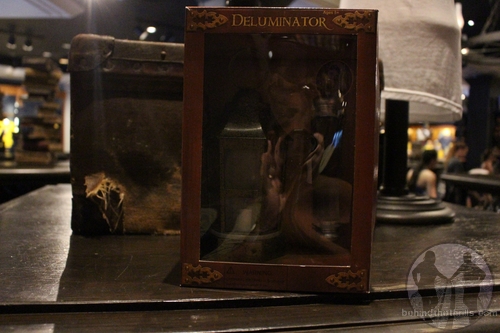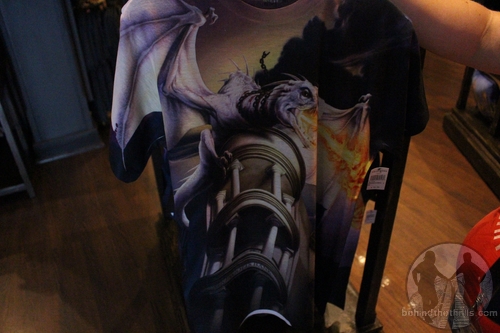 Harry Potter fans can pick up a Deluminator, that was seen in the first film. It will "take the light" from the lantern that comes with it. Very cool little gift, and a lot of fun for Harry Potter fans. Also cool is the new shirt that has the Dragon on top of Gringotts Bank shooting fire. It's clearly a Diagon Alley shirt, and it's also Dri-Fit so it will keep guests cooler than regular shirts.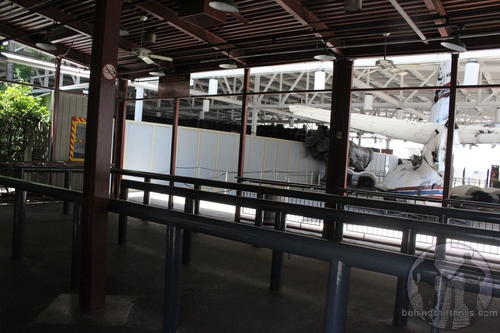 Halloween Horror Nights construction is moving along at a steady pace all over the park. Construction permits have been filed for all nine houses, and visible work can be seen from the Disaster Queue. The extended queue for Disaster is most usually used as a house, and construction has to start extra early. Apparently there is more construction happening in the backstage area, which can be seen from the Animal Actors stadium, and The Simpsons queue…but at this point it's just black tarps and construction walls, which are hard to see from the trees. Rumor has it that the second theater of Shrek will house the ninth house this year, which will make for a pretty large maze.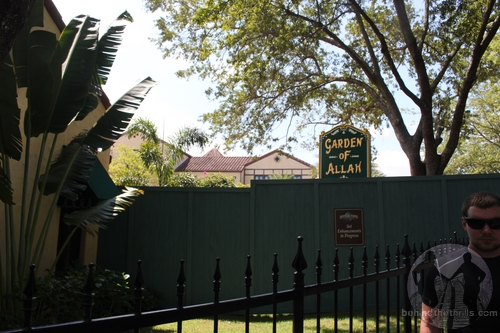 The mysterious project in the Garden of Allah Villas continues. Could it be a media center? Could it be a 25th Anniversary museum? The rumors run rampant, and at this point, we'll just wait and see. In other news and rumors, Universal has just filed a permit for Project 727, which many say will take over Twister. The rumor there is that it will be an attraction that takes you into Jimmy Fallon's Studio, and through the magic of movies. Another rumor is that it's the start of a Fast & Furious attraction, which will take over Disaster, and turn the San Francisco area into Los Angeles. We're not exactly sure which is which, but it sounds like progress will be noticeable at the end of the summer, so get your rides in on those two attractions…just in case.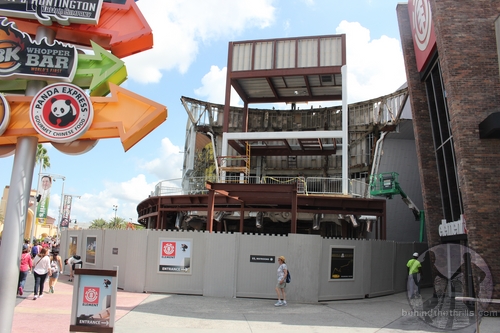 The former NASCAR Grille area is going to become NBC Sports Grill & Brew, which was made official last month. The new restaurant will feature a hundred different beer choices, as well as a new menu, and tons televisions for just about every type of sporting event.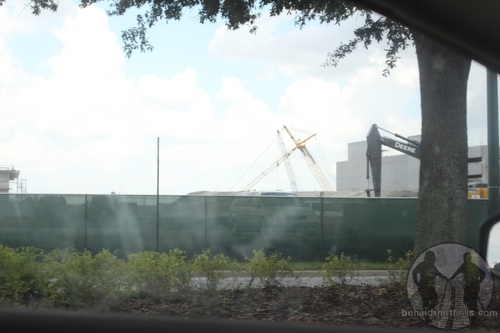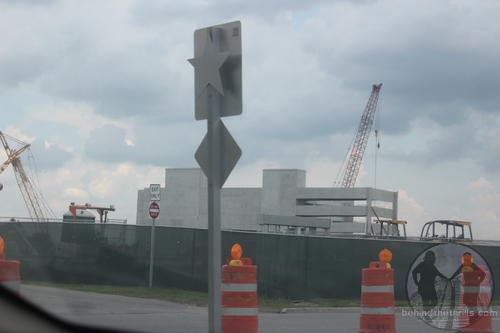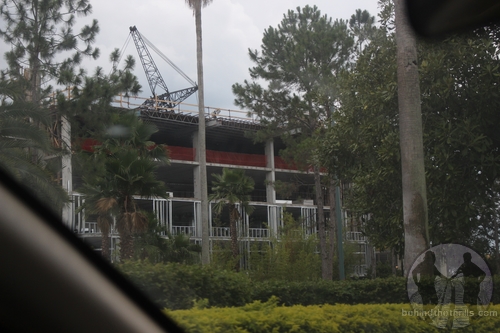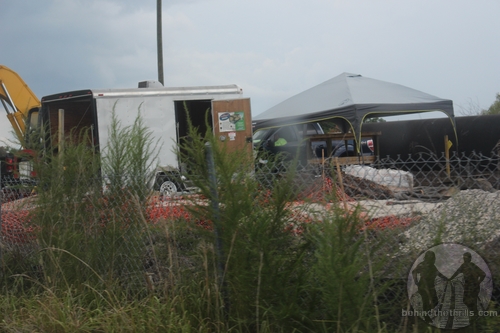 Out of the park, construction continues on Sapphire Falls, which is scheduled to open in 2016. The work has been moving at a blazingly fast rate, and is seeing tons of new structures rising. The new hotel will share space with Loews Royal Pacific, but will add on to that experience as well with their own pools, rivers, and restaurants. Each of the other three premium hotels has a very unique dining experience, and we are very excited to see what Loews brings to Sapphire Falls.
Meanwhile, construction is well underway for the all new waterpark, Volcano Bay. While it's nothing more than a pile of dirt and hole in the ground now, it will soon grow rapidly with the centerpiece being a massive 200 foot tall volcano. The resort also announced that, in anticipation for the opening of Volcano Bay, they will be closing Wet N Wild. The iconic Waterpark has been around for almost 40 years. Many speculate that many of the slides will be taken out of Wet n Wild, and placed at Volcano Bay. We're not so sure about that, but we'll keep you posted.
Slideshow-Check out even more pictures from Universal Orlando
Stay tuned for more from Universal Orlando, and be sure to get social with us on Facebook, and follow along with us on Twitter @BehindThrills for the latest updates!
For more information about Universal Orlando,including tickets, visit the official website by clicking here!