Verruckt at Schlitterbahn, Kansas City struck fear in the hearts of would be riders everywhere as the new World's Tallest Waterslide. The waterslide sends riders over the edge of a structure taller than Niagra Falls. At 167 feet, 7 inches Verruckt is one mean monster that only the bravest can conquer…and then build out of Lego bricks. That's exactly what Master Model Builders at Legoland Discovery Center in Kansas City has done.
Verruckt is now the tallest, most diabolical…Lego model that will be on display at the Legoland Discovery Center in Kansas City. The world's tallest waterslide is one of the most complex Lego models that Master Model builders have ever created. While it seems like a pretty easy task, like the actual waterslide, the Lego model was a task that took hours, and tons of tries to get just right.
"This is definitely one of the most difficult LEGO models I have had to create," says Jeremiah Boehr, LEGOLAND Discovery Center Kansas City's Master Model Builder. "Making a curved slide out of LEGO bricks took added creativity and LEGO bricks, more so than your normal LEGO model."
Video-Watch Lego Master Model Builders take on Verruckt
The Lego version of Verruckt took several days to complete, and is an astonishing work itself. The model is four feet tall, and nine feet long! It's on scale with the real waterslide. The model uses over 20,000 Lego bricks, and weighs more than 200 pounds. And get this…it actually works! Rafts go down the huge Lego waterslide, as guests look on. And yes, there are even terrified mini figures strapped in the Lego rafts, riding Lego Verruckt.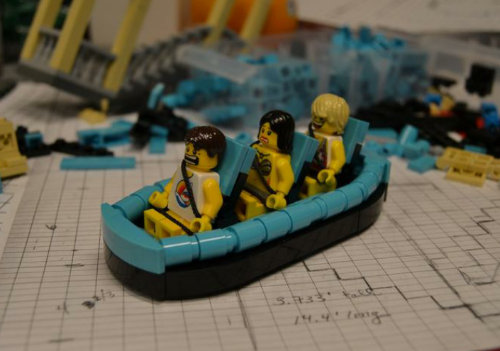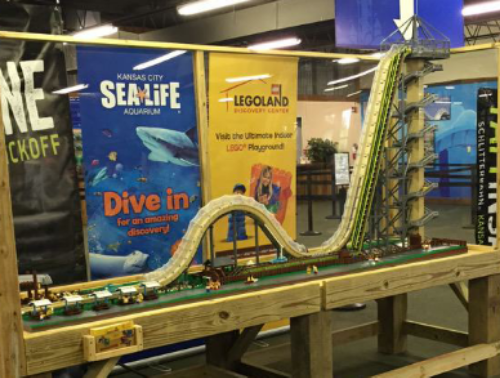 Verruckt will be on display Legoland Discovery Center in Kansas City all summer.
If you want more information on the real Verruckt, including tickets, visit the official website by clicking here!
Stay tuned for more Lego fun, and be sure to get social with us on Facebook, and follow along with us on Twitter @BehindThrills for the latest updates!
For more information about the Legoland Discovery Center in Kansas City, visit the official website by clicking here!