The time has come as we part ways with the return (hopefully more seasons to come) of BattleBots. This coming weekend will mark the season finale as 4 of the best robots in the entire competition will go face to face to win the coveted Giant Nut. Join us as we take a look at the 4 bots as well as come hilarious commentary from side line reporter Alison Haislip pinning each bot with a respected celebrity. This article will focus on the final 4 remaining bots!
Round 1 – BRONCO VS. TOMBSTONE
The two Alpha-bots of this season's competition come face to face as each bot has won by knockout up until this point.
"Kevin Costner v. Bronco – He can dance with wolves, but can Costner dance with a Bronco???" – Alison Haislip
Bronco has flipped every opponent out of the arena to date with his monstrous pneumatic flipping arm.
Tombstone has wrecked every bot he's faced turning his opponents into robotic chum.
Angelina Jolie v. Tombstone – Can Lara Croft survive raiding this Tombstone??? – Alison Haislip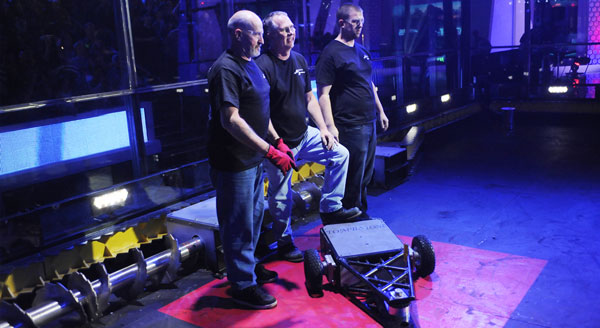 Round 2 – Bite Force VS. Ghost Raptor – Round 2
Two of the most exciting bots to watch are finally facing off. Bite Force and Ghost Raptor were seemingly underdogs in most of the battles they fought, but with excellent driving and creative ingenuity, both have made it all the way to the semi-finals.
Bite Force shocked BattleBot fans in Episode 1 when he bot-handled the dreaded British bot Warhead showing incredible driving ability and creative use of magnetic treads to add extra grip to his bot.
Scarlet Johansen v. Bite Force – Can Black Widow's bite poison Bite Force? – Alison Haislip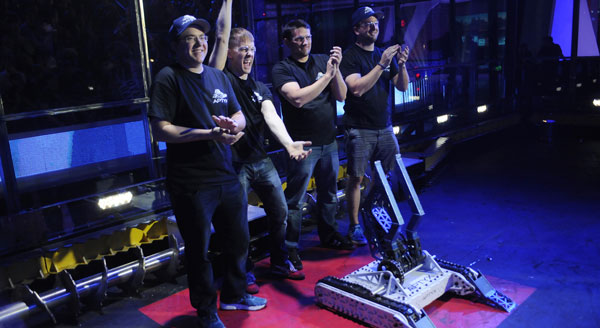 What is otherwise a marvel of creative ingenuity, we've been given the pleasure of seeing Ghost Raptor's team evolve the bots design through the competition changing each match to best match up against it's opponents. Upset after upset Ghost Raptor cemented his well earned place in the finals.
Bruce Willis v. Ghost Raptor – Think a 6-year old will help Bruce see THIS ghost coming???  – Alison Haislip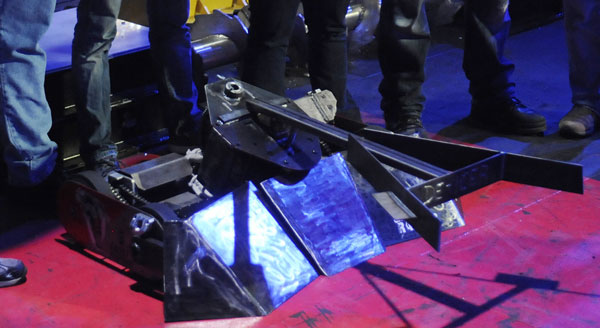 And this coming Sunday we will soon find out who will be victorious in the end. Will deadly weapons prevail or will driving experience out-maneuver deadly weapons? It's an exciting time to be a robotic combat fan as the competition is one of the best we've seen! We cannot wait for the season finale and we hope you are looking forward to it too. Who doesn't love a bit on destruction?
Stay tuned for more from ABC/Disney and BattleBots, and be sure to get social with us on Facebook and follow along with us on Twitter @BehindThrills for the latest updates!