Earlier this year the short lived, Luigis' Flying Tires at Carsland was closed. The troubled attraction opened at Disney's California Adventure in 2012, with the rest of the Cars themed land, and quickly became an attraction that guests avoided. The park announced that they would be replacing the attraction, and upgrading the system to an all new ride experience. Now, Disney has announced that Luigi will return with a few of his cousins to help run the tire shop.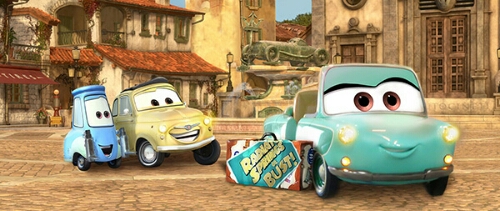 The Disney Parks Blog has unveiled a first look at the new attraction, which has been rumored for quite some time, and will open in 2016.
Luigis' Rollickin Roadsters will see friends and family visiting from Carsoli, Italy. To celebrate Race Day at Radiator Springs, his cousins will teach everyone how to dance the dance of their village. The new ride is rumored to be a system similar to Aquatopia at Tokyo DisneySea. That ride uses a trackless system, guided by remote.
The new version if Luigis will replace the Flying Tires, which was replaced after not functioning properly, and being difficult for guests to control. The giant hover system was designed to work like air hockey pucks, gliding over a cushion of air. It never fully worked that way.
The new ride should open in 2016, and will keep the same ride facade.
Stay tuned for more from Disney, and be sure to get social with us on Facebook and follow along with us on Twitter @BehindThrills for the latest updates!
For more information about Disney's California Adventure, including tickets, visit the official website by clicking here!