Disney Infinity has grown tin include some major Disney characters, game play and fun in the past few years. The experience has gone from just Disney characters, to now include Marvel, and coming this year, Star Wars. We will be getting a first look at the game play experiences from San Diego Comic-Con, but Disney has released a ton of details about the new game experience, including release dates and pack details!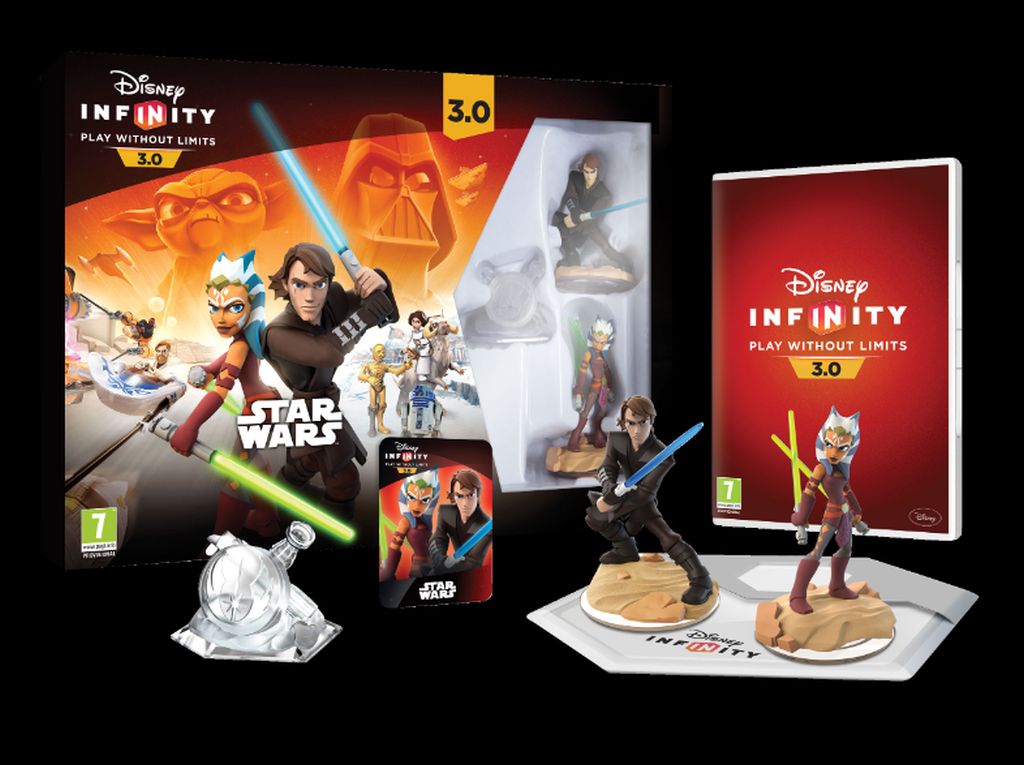 I became addicted to Disney Infinity last year, when the Marvel figures were released. I loved the game play of the story mode, and some of the toy box mode…but didn't get that into it. This year, however, Infinity will release a ton of new features, including an expanded Toy Box Takeover, which will allow players to use all figures from all series in one massively expanded universe. There will also be a huge Speedway Expansion that will allow players to race karts with all their players.
Plus we get an idea of what will be hitting when the game officially launches on August 30th.
 Star Wars™ Twilight of the Republic Play Set (Anakin Skywalker and Ahsoka Tano figures included) for players who choose to digitally download the Disney Infinity 3.0 Edition Software; additional standalone figures (Yoda and Obi-Wan Kenobi) and Power Disc Pack
Star Wars Rebels™ figures (Kanan Jarrus, Ezra Bridger, Sabine Wren, and Zeb Orrelios)
 Disney•Pixar's Inside Out Play Set (Joy and Anger figures included) and additional standalone figures (Sadness, Disgust and Fear)
 Disney figures (Mickey, Minnie, Mulan, Olaf, Sam Flynn and Quorra)
 Tomorrowland Power Disc Pack
Toy Box Expansion Game Overviews:
Toy Box Takeover
When Syndrome gets his hands on Merlin's magic wand, it's up to the player to stop him.  Using their favorite characters in Disney Infinity, they must battle across multiple worlds, such as Pirates of the Caribbean, Marvel's Upper Manhattan, The Old West, or The Incredibles Volcano Lair to defeat the bad guys before they ruin the Toy Box forever. Players can complete missions with family and friends via two-player local co-op or four-player online.
Toy Box Speedway
Players can join their favorite Disney, Disney•Pixar, Marvel's and Star Wars characters and vehicles in anaction-packed kart-racer.  With nine franchise-themed tracks to choose from – Sugar Rush, Frozen, Tatooine, a classic Star Wars location, San Fransokyo, Agrabah, Monsters Inc., Halloween Town, Gravity Falls or Marvel's Knowhere – they can choose from three different game modes including Time Trial mode, Race mode and Combat mode.   Players put their driving skills to the test as they attack opponents with gadgets and weapons and earn trophies across three challenge cups.
The game hits on August 30th, and will be available on all consoles!
Stay tuned for more from Disney, and be sure to get social with us on Facebook, and follow along with us on Twitter @BehindThrills for the latest updates!