The make up artists and designers drum up big scares during Universal Orlando's Halloween Horror Nights. It's definitely not a family friendly atmosphere, as all kinds of monsters, maniacs and scary clowns come out to play. Creators of all this mayhem are some of the last people you would think of when you would think "children's charity". Make no mistake, however, that when it comes to big hearts, there's not many more that are larger than the creators at Universal Orlando. We've teamed up with the charity "Hearts of Reality" to bring out a piece of Halloween Horror Nights history…all to benefit the kids of Give Kids the World.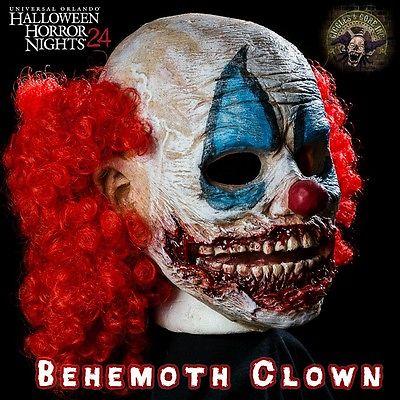 Fans of Halloween Horror Nights now have the chance to own a piece of HHN24 history, a custom painted Behemoth Clown Mask that was actually used in Halloween Horror Nights during 2014. The mask is from the popular Giggles and Gore house, which told us just where the bad clowns come from. The mask was sculpted by Universal Studios Senior Makeup artist Jason Thomas, and painted by David "DOC" O'Connell of the Universal Orlando Makeup Team. Doc appeared on SyFy Networks' popular monster making show, FaceOff during  season seven. The mask is extremely rare and amazingly detailed — a true one of a kind original piece.
Click here to bid on the piece!
100 % of proceeds benefit Give Kids The World Village which is a nonprofit resort in Kissimmee, Florida for children with life-threatening illnesses, and their families. The resort's focus is providing accommodations, and access to donated theme park tickets. Families that visit Give Kids The World must be referred by one of over 250 wish-granting organizations or foundations, such as Make-A-Wish Foundation. Once at the "Give Kids The World Village", they are treated to an amazing vacation experience that gives them a break from the daily routine of doctor visits and hospitals. The village is almost a theme park itself.
Hearts of Reality is proud to be not only auctioning off the mask from Halloween Horror Nights, but also to be in the seventh year of fundraising for Give Kids the World. Fans will be able to meet Doc O'Connell, Laura Tyler, and Emily Serpico from Face Off, along with over 100 other stars of reality television this August. The annual Hearts of Reality event brings celebrities out from Survivor, Big Brother, Amazing Race and other shows to help raise money and awareness for Give Kids the World.
For more information about Hearts of Reality, visit the official website by clicking here!
Stay tuned as we will be bringing you tons of other great memorabilia from Hearts of Reality, including autographs, one of a kind pieces, meet and greets and more!
Be sure to get social with us on Facebook, and follow along with us on Twitter @BehindThrills for the latest updates!